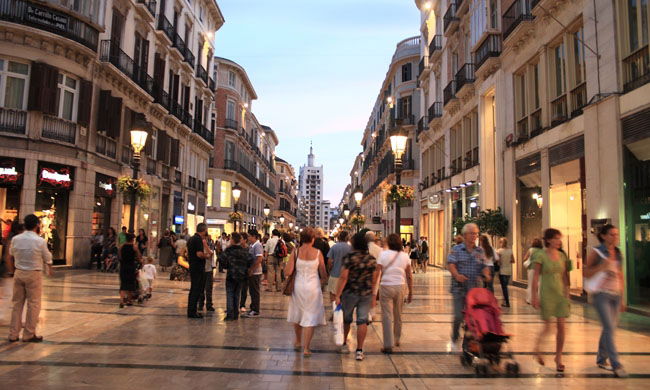 By Daphne Hilarides
SHOPPING in major Spanish cities – including Malaga –  is set to get a revamp.
But with plans afoot for shops in 15 cities to open on Sunday and public holidays, not all traders are happy.
Many small and medium size traders claim laws in a Government decree merely favour large companies.
Malaga is amongst the 15 cities that will have to identify the commercial areas that attract the most tourists, so businesses in those areas will be allowed to open on Sundays and on public holidays. 
This regulation will increase shop opening hours from 72 to 90 hours a week, and also authorise opening on 10, rather than just eight public holidays. 
But several local governments do not agree with the proposals claiming they could have negative effects on small and medium businesses. 
The laws are still to be implemented on January 1 of 2013. 
For some it is not only a matter of when retailers will be able to work, but also where. 
Small Malaga shop owner Manuel Criado said "we'll have to see which streets are going to be included in the area, because my store is in the historic centre, but like most small business owners, I can't afford the rent on Calle Larios." 
He is afraid the city town hall will only focus on Larios, Granada, and Nueva streets, mainly occupied by large business chains.
 "These are the only places they've injected money into, while the rest of the historic centre has been neglected," he said.   
Malaga's Business and Work Promotion Councillor Esther Molina, said local business owners will have to "find new solutions to satisfy everyone. We have to reinvent ourselves." 
Malaga City Hall has suggested small retailers "change their day off", so they can begin to open on Sundays and holidays, thereby becoming a commercial attraction as well as a recreational or cultural one. 
But the Head of the Historic Centre Retailer Association of Malaga, Trinidad Fernandez-Baca claimed the new law "will smother us and only favour large businesses." Small businesses have attempted to open on these days, and it simply is not profitable, she says.