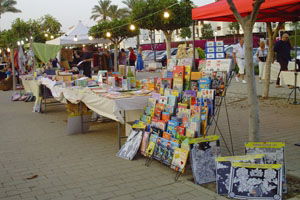 By Susan Leach
THE FOURTH annual summer street market near the Hotel Zimbali in Vera Playa opened on Friday June 29.
 Fifty-two stalls owned by people of many different nationalities will be open from 8pm until late every night right up to the first week in September.  
It is primarily a handicraft market, and stall-holder and organiser, Clara Pozo, said there were some colourful, new and interesting sellers this year.  
Caps and sculptures made out of tin cans, colourful handmade sock cats, fairies in all shapes and sizes, natural skincare products, silk curtain clips, books for children in English, rugs and cushion covers are just some of the crafts on display.  
At the time of going to print, Pozo said that there was just one stall space still up for grabs.  She said Vera town hall had been very generous by not charging for permission or electricity.  
Last year the market raised 4,000€ in stallholder fees for the, "Hermanas Franciscanas de Vera Pueblo."  This year's total is expected to be the same. The Franciscan nuns feed and clothe hundreds of people year-round.