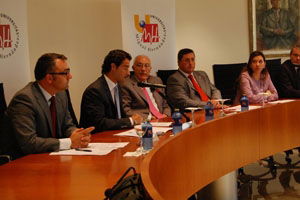 By Keith Nicol
IT is well known that Torrevieja has one of Spain's best-managed, recycled waste water systems.
As far back as 2004, Torrevieja earned national distinction as a 'Sustainable City' in the field of Integrated Water Cycle for their use of sustainable management of water resources. This week the city took this process even further when the Miguel Hernández University (UMH) in Elche signed a collaboration agreement with Aquagest Levante, Aguas del Arco del Mediterráneo (AGAMED) and Aigües i Sanejament d'Elx, which will develop compost derived from sewage sludge. The Group of Applied Research in Agrochemicals and the Environment (GIAMMA) of the UMH conducted the study to obtain this organic fertilizer to be used in reforestation campaigns with forest trees and shrubs in the Mediterranean.
The agreement aims to carry out a study to develop a compost that can be used to improve the surroundings when planting species to repopulate green areas of the municipality. This type of product ensures the proper introduction and early development of the species planted.
Reforestation activities will take place in the landscape of Lo Albentosa in Torrevieja and the Clot de Galvany in Elche and part of the Programa de Factura Electrónica (Electronic Invoice Program), adopted by the signatory companies. The goal is to repopulate these areas with more than 5,000 specimens of native species. Aguas del Arco Mediterráneo (AGAMED) and Aigües d'Elx will plant a tree for every customer who signs up for the paperless billing service with the slogan 'No pases factura al planeta'(Do not pass your bills to the planet). This environmental initiative is to reduce the CO2 footprint by decreasing the volume of paper consumed and the energy cost of distribution to increase the forest.