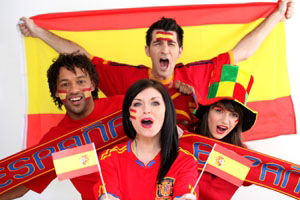 A MALAGA flag manufacturer has tripled production thanks to the European Cup.
Instead of an average 100 flags a month, the factory is currently producing 2,000 a week.
Twelve machinists – eight more than usual – work in day and night shifts to complete wholesalers' orders for Spanish flags, said manager Juan Antonio Moreno. 
The factory has also outsourced sewing to a local cooperative, he explained, in order to meet demand.
The story is the same in the printing section, where machinery is functioning 20 hours a day and the workforce has increased from 12 to 20.
The factory also exports their country's flags to France, Italy and Greece.  Despite the crisis, the factory received an order for 4,000 Greek flags and is likely to export more.
A glance at any street shows the Spanish flag flying from balconies, hanging out of windows, draped outside bars and fixed to vehicles. 
The custom, which became popular during the World Cup, is a "social phenomenon" according to Moreno, who believes there are even more around this year.  Business-owners realise that flying the Spanish flag is a good way to increase sales, he said.
Win or lose, by the time the Eurocup is over the factory will have sold a total of 25,000 flags.