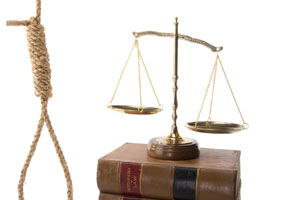 Capital punishment, if it doesn't put a noose under the collar certainly makes people hot under the collar. The abolitionists call it state murder, which it is of course. I call abolition a licence to kill.
A visit to meet prison warders engaged in prisoners' training once took my feet on a tour of Manchester's HMP Strangeways Prison. Included was sight of the condemned cell and the final few yards a prisoner took to his doom. I chose to turn my back on the door to the execution chamber; countless others never had the chance to do so.
I still recollect the sombre mood on the morning a convicted murderer was to be hanged at Liverpool's HMP Walton Prison. I think the general feeling was that capital punishment was a necessary evil, and so it was accepted.
Abolitionists' smugly hold the moral high ground but is it an illusion? Their consciences should be weighed down by the appalling deaths of thousands of slain victims likely to be alive today if the final deterrent had not been removed.
Murder in the 1950s was so rare an event that the Liverpool Echo, then a broadsheet, put entire pages aside to cover the case over three days. A single murder was discussed in detail by nearly everyone.
In my youth one could and did get several years for grievous bodily harm (GBH); this could be no more than a punch-up in a pub fight. Today, two years in prison, if you discount the statutory two years for good behaviour, is considered the norm for murder.
Depressingly, these days, it is not unusual to see several murders reported each week in that one city. As I write; one man killed, another on life support after a shooting in Liverpool. Merseyside has the lowest crime rate of the five metropolitan police regions. Goodness knows what is going on in other UK police regions. If so many murders in any one city merit only a few column paragraphs, how are we likely to learn what is going on elsewhere?
The statistics will be massaged in order that murders most foul fall under the lesser category of manslaughter. Not much comfort for the victim or their loved ones to know the executioner hadn't actually intended to kill their victim.
How many killers would have thought twice before slaughtering their victim had the shadow of the noose occupied their thoughts? A great many I would have thought. There is an added irony to the consequences of abolition.
In New York City it was learned that many victims of violence, including rape, were unnecessarily murdered for two reasons. The penalty would be no more severe if the victim was murdered. And, there was a better chance of getting away with the crime if the witness, the victim of course, was silenced through murder. Wouldn't' this apply over here too?