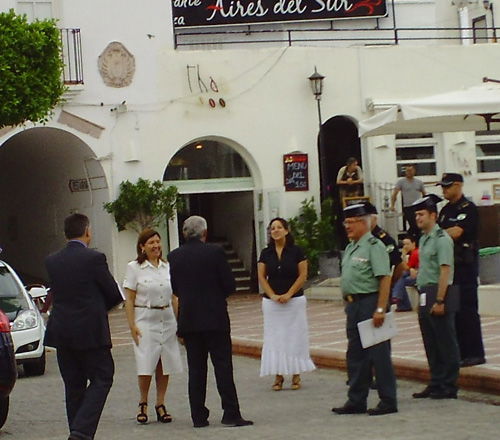 THE seems to never be a dull moment when Mojacar politics are concerned.
What in most towns would have been a run-of –the-mill council meeting, in Mojacar led to people being expelled, and legal action being threatened, again.
Ten people, were ordered to leave an ordinary plenary meeting at Mojacar town hall last Thursday May 31, according to Jessica Simpson of Mojacar Positiva se Mueve.
She said that five people tried to film the meeting which began at 8pm and were warned three times to stop.
Simpson said that the proceedings were paused and 10 people, some of whom had tried to take photographs, were "expelled." Mojacar Pueblo resident and business owner, Oscar Gagliardi has since filed a lawsuit against the mayor for expelling him.
A town hall spokesperson said that only Gagliardi was actually ordered to leave and that nine others walked out in support of him.
A reporter who works for the town hall said that he had only taken photographs, and has never filmed a town hall meeting in his life.
He said that claims by Gagliardi in the Spanish press about a reporter having filmed the meeting were false.
Gagliardi, who has tried to film Mojacar town hall meetings before, said that the Mayor knew of his intentions.
He said he had been previously warned by local police not to resist, or he could face a night in jail.
He and other Mojacar residents wish to film town hall meetings in order to publish them online for all to see.
Gagliardi claims that this is common practice in some Spanish towns, and is completely legal.
Spanish law does not specifically prohibit filming town hall meetings but it does give the mayor power to stop anyone disturbing meetings.
In April 2011 a woman was fined €120 for filming a town hall meeting in Uleila del Campo and publishing it on the internet.
According to a Garrucha lawyer, there is a grey area in the law because judges haven't been able to agree on the legality of filming public meetings.
However, if the mayor believes that the act of filming is disturbing the meeting, he or she can order the person to stop filming.
Gagliardi is a member of the Graba tu Pleno (Film your meeting) association which is campaigning nationwide for the right to film and publish meetings.
The group's website lists towns in red where filming is banned, and green where filming is allowed.
Nine towns including Mojacar and Carboneras are listed red, and six green in Andalucia.
Jessica Simpson described Gagliardi's expulsion an, "abuse of power," saying that citizens are within their rights to record and publish, "open, public meetings."
She added that Mojacar Mayor, Rosa Maria Cano gave no response when asked by opposition party members and citizens why the expulsion had taken place.
Would you like to be able to watch your town council meeting online?
Do you think the general public should be allowed to film the meetings?
Please send your comments and opinions to s.leach@euroweeklynews.com
By Susan Leach