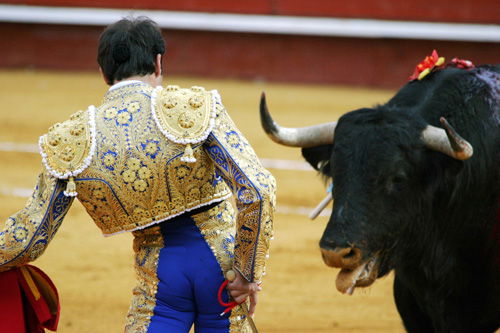 LIKE ancient Romans famously kept happy with "bread and circuses" some villagers in Caceres, western Spain, prefer bullfights to jobs.
Twenty centuries after Juvenal's satirical observation, Guijo de Galisteo, El Batan and Valrio voted on whether €30,000 of council funds should be spent on bullfights or employment.
Following a referendum, two of the three small villages controlled by Guijo de Galisteo council decided to allocate money to three summer bullfights instead of casual labour.
The vote was not unanimous, with an overall 181 in favour of employment and 242 voting for bullfights, announced Diego Retortillo, councillor responsible for Fiestas.
In Guijo de Galisteo, 115 residents want the money spent on employment, with only 40 preferring bullfights.
As a result their €15,000 share of the fiestas allocation will go towards providing work.
The vote went the other way in El Batan where 126 voted for bulls and 47 for work.
The story was repeated in Valrio with 76 people wanting to retain the summer bullfights and 19 people favouring jobs.
Guijo de Galisteo resident Elena Garrido approved of the result. "Fiestas last a couple of days but bills have to be paid year round," she claimed.
"Without work, there's no money for anything." Maria Jesus, Irene and Raquel – all 17 years old – disagreed.
"We're still too young to work," they argued, "and besides, the fiestas are fun."