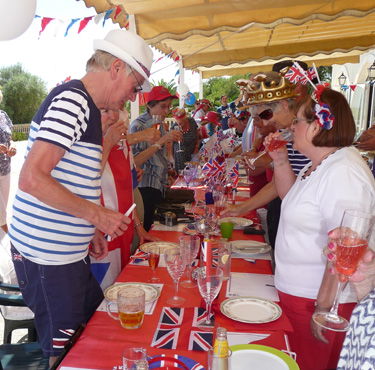 THE English Speaking Residents Association (ESRA) South East chose the actual anniversary of Queen Elizabeth II's coronation for their celebration party which took place at Sa Residencia in S'Alqueria Blanca. The enormous terrace was wonderfully decorated in red, white and blue with all the bunting, flags, cloths and plates, among other items which members were able to bring back from recent trips to the UK.
A long table was set up in typical street party style where the 50 participants stood to raise their glasses in a loyal toast and sing God Save Our Queen before settling down to eat.
Unlike many in Britain, residents celebrated under bright blue skies with vistas of the sea.
A buffet table groaned with traditional 50s coronation food, although the bottles of wine may not have been present at street parties in those times.
Fun and games were the order of the day after lunch.
There was a quiz set by John Clays and organized by ESRA's Social Secretary Pam Cook relating to 50s facts, with two ladies, Anne Ericson and Ann Marsden joint winners with 12 out of 20 points.
Various silly games were attempted including pass the balloon via chins or knees, which became somewhat undignified and took many back to their childhood, and also pin the tail on the donkey.
By Silvia Morgan