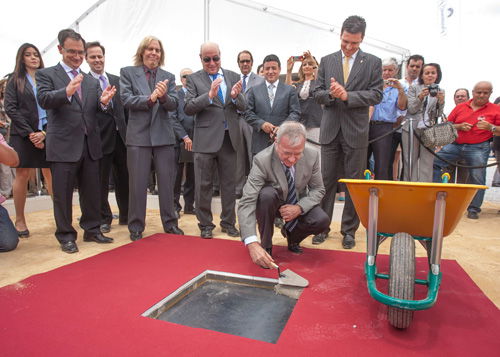 THE foundation stone of the Paramount Theme Park planned for Murcia has been laid, some say in a bid to silence sceptics of the €1 billion project.
This was revealed by Premusa, the developer of Paramount Park and LifeStyle Center leisure complex project, located in Alhama de Murcia.
Present at the ceremony was Jesus Samper, President and CEO of Premusa, Ramón Luis Valcarcel, President of Murcia Region; Joaquin Bascuñana, Delegate of the Government for the Region of Murcia; Alfonso Fernando Cerón, Mayor of Alhama de Murcia; and Michael Bartok, Executive Vice President of Paramount Licensing Inc. Jesús Samper said: "the project will become an international tourist destination estimated to welcome more than 3 million visitors per year."
The project, opening in 2015, is estimated it will generate more than 22 thousand jobs.
The complex will include a theme park divided by themes into four areas, and two themed hotels, as well as the LifeStyle Centre, a cultural, business and leisure area which will have seven hotels and a recreational area.
The Paramount Park and the first phase of LifeStyle Centre are expected to open in the first months of 2015, the company recently said.
Premusa is in the process of securing the additional €130 million necessary from external investors for this project top go ahead, "we're on it" a source at the company told EWN, as soon as we have all the investors we will let you know."
The facilities
The Paramount theme park will include state-of-the-art attractions for all ages and will feature a retail spine along with four themed lands and two themed hotels.
Adjacent to the Paramount theme park, the LifeStyle Center will include a large hotel, commercial and leisure area that will be home to a street mall, restaurants, bars, night clubs and a casino.
By John Jackson