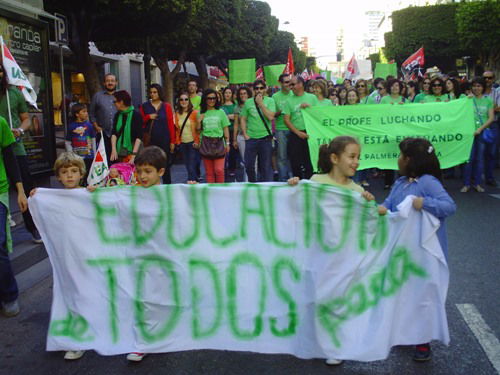 NEWS of billions of euros in government bailouts to save troubled lenders such as Bankia from collapse is doing little to appease the thousands of worried teachers who face losing their jobs in the latest batch of austerity measures announced by Rajoy.
Thousands of teachers, students and parents took part in the national education strike and went to the protest march in Almeria City.
Protests took place in most of mainland Spain at the same time.
Schools were officially open, but many students and teachers didn't go.
Reports said that more high school students missed school than primary school pupils on the strike day.
Teachers think this could have been because older students know that the government cuts are going to affect them too.
Some high school students from Vera went to Almeria in the morning to join in with university protests.
Other teachers and students from towns in Almeria marched in Cuevas del Almanzora.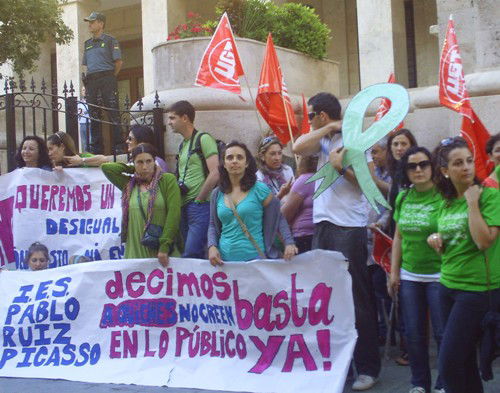 Pupils as young as six marched and carried flags and banners in Almeria. Mothers marched with babies in pushchairs.
Some people carried for sale signs, crosses and RIP education notices. The teachers' and trade unions said that there were about 10,000 people at the Almeria protest.
It started at Puerta Purchena at about 7pm and went down the capital's main shopping street (El Paseo), arriving at the central government offices near the port at about 8.30pm. Police presence was minimal and the protesters were noisy but peaceful.
A government spokesperson said there were only 5,000 protesters.
A group of 19 teachers and parents from the Palmeral High School in Vera went to the protest together.
They carried banners, blew whistles and chanted, "Teachers are also teaching (setting a good example) by protesting (standing up for education)."
State education is for everybody, was the slogan on the front of the protesters' green T-shirts, also worn by protesters nationwide.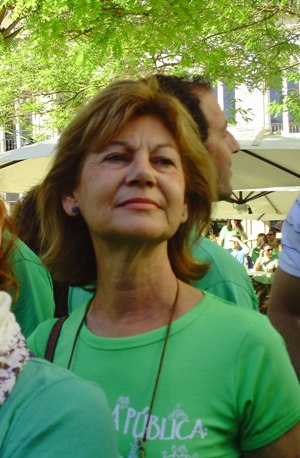 Mercedes de Diego, an English teacher at the Palmeral school, said that she went to the protest march because the government cuts are destroying education.
She is retiring this year, but was adamant that in the last few years things have just got worse and worse. She said that the government is showing teachers in a very bad light.
The government has decided to cut back public spending on education by 20 per cent from infants to university level.
Teachers will be paid less and work more hours. School dinners, after-school activities and school trips may become a thing of the past.
In a letter to teachers and parents, the national PTA association (CEAPA) said that classes will get bigger and substitute teachers will only be provided once a teacher has been off sick for a month.
They maintained that the cutbacks will have devastating effects on the state education system in general. The letter urged parents to protest with their children's teachers.
The Almeria branch of the teachers' union ANPE gave out leaflets urging teachers to act to let business-owners know how important they are.
The leaflet said that by not organising school trips to theatres and theme parks, cancelling Christmas meals etc., businesses would be forced to support them.
It also said that teachers should give all students top marks regardless of their actual school performance, to see how grant organisations would react.
The day after the protest, the ruling Conservative PP party asked for teachers to show solidarity and support the necessary cut-backs.
The Mayor of Nijar, Antonio Rodriguez said he found it interesting that teachers weren't prepared to work more than 20 hours a week when local police officers Work 1,522 hours a year, including nights and weekends.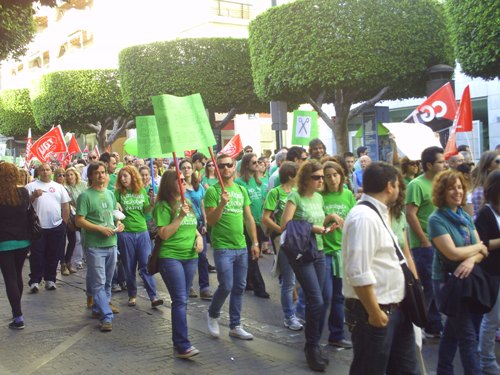 Carlos Juarez, an English teacher at the Palmeral School in Vera said that the public needs to know that it's not just about pay-cuts.
He said that of course, teachers were upset, but that the protest had been organised even before the government announced reducing salaries and increasing their workload.
Meanwhile, socialist PSOE leader, Adela Segura of the Andalucian Parliament in Sevilla said that the PP should take action regarding Mayor Rodriguez' comments.
She implied that he had lied, and said he had discredited the work that teachers do.
Primary school children go to school from 9am to 2pm in the Almeria province.
Although this totals 25 hours a week, teachers are also required to take part in meetings and courses out of school hours.
They also take marking home at weekends and spend time preparing classes, organising school trips and other activities.
Special report by Susan Leach
s.leach@euroweeklynews.com