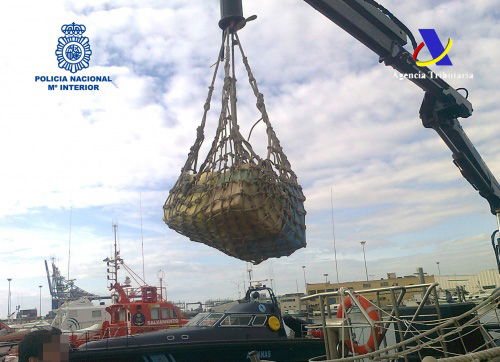 A SHIP carrying 600 kilos of hashish was intercepted at sea near the Alboran Island.
Fifteen members of an organization based in Cataluña, Andalucia and Melilla, which brought cocaine and hashish by sea to Spain, were arrested.
Eight kilos of cocaine were also seized, as well as substances for cutting the drugs, firearms, vehicles and a boat.
The drugs were transported to Malaga, Cadiz and Almeria and later distributed throughout the rest of Spain and Europe.
The boat they used was often moored at Malaga Port, the last time it left the port, an operation was set up by National Police and Tax officers to catch the smugglers.
It was boarded off the coast of Almeria.
Three people were arrested on board and another two were detained while waiting for the ship to arrive in Spain.
Others picked up the drugs in the Costa del Sol area and distributed it in Costa Brava.
One was found carrying almost seven kilos of cocaine, 46 grammes of hashish, six mobile phones and €4,900 in cash.
Another three were found with a kilo of cocaine, a gun, €400 in cash, substances for cutting drugs, a mould, precision scales, seven mobile phones and documents of interest.