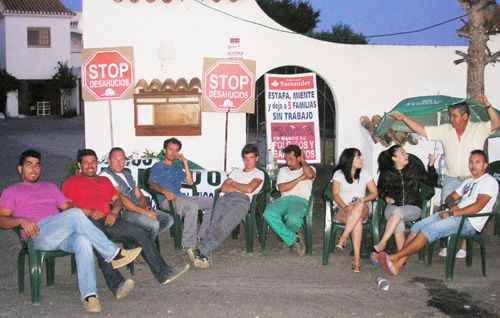 TWELVE days have passed since the owners and staff of the Gnomo Feliz II (GFII) were evicted from their homes and business.
On Tuesday May 15, about 40 people protested with banners and signs when bailiffs arrived at the Vera restaurant.
At the time of going to print, owners Ausra Klikunaite and Manuel Jimenez were still living in the building with hardly any furniture and no doors.
They had put most of their belongings into friends' garages and were trying to find new homes for their horse, goat and other animals. Jimenez said that he would sleep outside his restaurant for as long as it took to see justice done.
On the news documentary programme Andalucia Directo, on Canal Sur, it showed Manuel sleeping in his car.
He now realises that justice may never be done, and that they have to move on. On Monday 21 he told the EWN that he and Ausra are about to rent a new premises and continue their business.
The article in the EWN that a British woman and her staff had been evicted. British waitress, Heather Gaskin was not the owner of the GFII but has worked there since it opened three years ago.
Gaskin and another waitress have since signed on the dole (el Paro).
Jimenez said that they will get their jobs back as soon as the new place is ready. Ausra and Jimenez are not entitled to any benefit despite having had their business closed, paying their taxes and social security, and "not owing anyone" any money, they said.
They have started court proceedings against the judge in Vera for refusing to accept their paperwork, and against the Santander Bank for "unjust treatment."
The Santander Bank lawyers and the couple's own lawyer were all unavailable for comment.
Jimenez said that he holds nothing against Angel, the owner of the bankrupt building company, Ingofersa, that rented them the property three years ago.
They signed a 15 year contract and paid everything upfront. It wasn't until February this year that the couple learned the bank had repossessed the property.
He said that Angel wasn't to blame, and is even worse off than them as he's in so much debt.
Ausra said that their lawyer had missed the deadline for handing in paperwork following an eviction attempt in February.
She and Jimenez said they cannot understand why the judge wouldn't receive their papers a few days late.
They don't know either, why the bank decided to evict them instead of trying to strike some kind of deal with them first.
They originally thought that the bank had a buyer for the property.
However, since then a bank employee has told them that's not so.
Jimenez said that he's quite sure that as soon as they leave, squatters will move in because he has seen people "casing the joint."
By Susan Leach
[email protected]