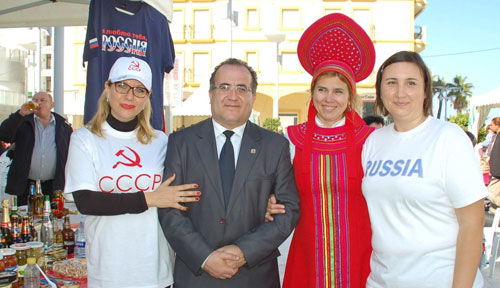 The Garrucha Russian association (New CCCP) are preparing to celebrate, "Victory Day," on Saturday May 12, with a barbecue at the town's "merendero," (public picnic area).
There'll be singing and dancing, vodka and black bread, in memory of those who lost their lives in the war.
May 9 is a public holiday in Russia to commemorate the Nazi's leaving the Soviet Union.
The New CCCP will hold their barbecue on Saturday because Wednesday May 9 isn't a national holiday in Spain.
The New CCCP was founded five months ago, and has 30 members of eight different nationalities.
The association's president, Masha Sedova, aged 32, explained that their objective is to celebrate Russian (and ex-Soviet Union) traditions, and encourage intercultural activities.
She said, "We want our children to grow up proud of our cultural heritage and traditions, but we also understand that integration is very important." Sedova, who moved to Spain from Russia in 2004, invites English people to join.
"The intercultural exchange is very interesting, and we are a lively and fun group," she said. On Andalucia Day, February 28, the New CCCP had a stall offering Soviet delicacies in Garrucha's main square, with members wearing traditional costumes.
On March 8 they held a traditional gathering on Women's Day at, "Sabor de ti," en Garrucha.
Children sang and recited poetry for their mothers
The association also does folk-dancing, and holds social events throughout the year.
Membership costs 5€ per month, and is open to people of all nationalities.
For more information, e-mail newcccp@hotmail.es
By Susan Leach