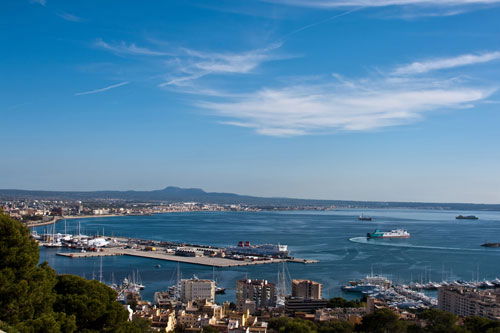 WHILE it has been a gloomy start to the year for tourism, the summer looks hopeful.
The sinking of the Costa Concordia off Sicily in January has been blamed for the 85.2 per cent drop in cruise ship passenger numbers to the Balearics so far this year.
This is because the Concordia was the only ship that paid a weekly visit to Palma de Mallorca in the winter months, according to an economic report.
Meanwhile, the other tourism data has not been positive either.
Compared to the same period last year, the number of visitors has decreased and so has the amount they spend, according to the report.
This is further backed up by other statistics which show a drop in airline passenger numbers.
Low-cost airline passenger numbers to Palma de Mallorca fell to 272,350 in March.
This is a 7.7 per cent drop compared to the same month last year.
Only Barcelona saw its numbers rise by 22.3 per cent to 474,588 passengers.
Despite being the second most used airport with 301,252 passengers on low cost airlines, this is 3.6 per cent less than March 2011.
Malaga's airport also saw a drop in passenger numbers, by 3.8 per cent to 252,985, while Valencia saw a larger drop of 12.2 per cent to 79,174 passengers.
More than half (52.6%) of passengers entering Spain in the first three months of the year travelled on low cost airlines; 5.91 million compared to the 5.32 million passengers using traditional airline companies.
However, the number of passengers using low cost airlines dropped by 1.7 per cent, while those using traditional airlines, increased by 0.3 per cent, according to the Ministry of Industry, Energy and Tourism.
Nearly three-quarters (73%) of low cost passengers during this period arrived in March (4.3million), which is one per cent less than the same month in 2011, while the 1.9million passengers on traditional airlines in March was 0.2 per cent less.
Nearly a third (31.6%) of passengers travelling to Spain in March on low cost airlines was British and nearly a fifth (19.7%) where German.
This is a 0.6 per cent increase to 1.8 million passengers for the UK market and a 7.2 per cent decrease to 1.16 million passengers for the German market. The third greatest volume of travellers was from Italy, with 709,906; 7.7 per cent less.
France came fourth with 308,088 passengers, which was 3.6 per cent more than a year ago.
Ryanair, Easy Jet and Air Berlin took the lead with six in 10 international passengers travelling on low cost airlines flying with one of these companies.
By Nicole Hallett