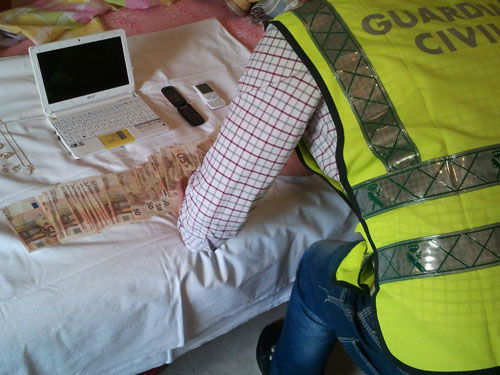 ON the morning she planned to buy an air ticket to return to Bolivia, O.Q.C. allegedly lost all her possessions.
Waiting at a bus-stop in Sorbas on April 12, the 52-year-old domestic worker claimed she was mugged by two individuals who threatened her with a knife.
The terrified woman handed over all her cash as well as her laptop, two mobile phones and the jewellery she was wearing.
A neighbour came to her assistance, taking her back to her employer's home when she suffered a panic attack.
Medics were called and the victim given oxygen and tranquilisers.
She was carrying so much money because she was on her way to Garrucha to pay for her ticket to Bolivia, the woman explained.
She was also wearing all her jewellery, intending to sell it to raise extra money.
Guardia Civil investigators received only a sketchy description of her assailants from the woman and soon discovered inconsistencies and contradictions in her story.
They also found she had withdrawn €1,600 from her bank account some days earlier. O.Q.C. eventually confessed that she had invented the mugging, hoping that friends and neighbours would rally round with money for her flight home.
This in fact happened and they paid in €850 into O.Q.C's bank account the same day that she admitted the deception.
She was preparing to leave last Saturday with all the "stolen" possessions, which police found hidden in the bedside table in her room.