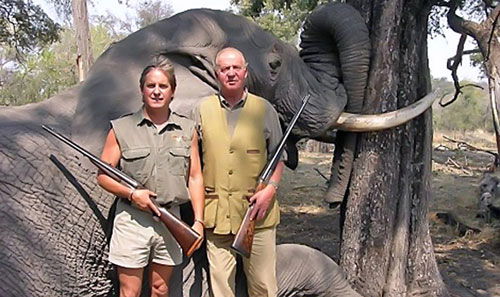 KING JUAN CARLOS has apologised for taking part in big-game hunting in Botswana.
"I am very sorry. I was wrong and it won't happen again," the 74-year- old monarch said after his release from hospital following a hip replacement operation.
Initial public concern over his broken hip was promptly overshadowed by photos of him on safari.
A communiqué explained that the accident occurred in Botswana when King Juan Carlos tripped over.
Almost immediately, images of him emerged on the safari organisers' website. In one, the king brandished a rifle as he stood in front of a dead elephant and in another he was pictured with two dead African buffaloes.
World Wildlife Fund España, of which Juan Carlos is Honorary President, conveyed its unease to the royal household earlier this week.
It was receiving complaints from members and collaborators condemning the organisation for maintaining the king at its head.
The organisation 'carries out extensive and efficient work in protecting wildlife with King Juan Carlos as honorary president', according to its website.
Over and above the legality or otherwise of shooting elephants, many clearly rejected having a big-game hunter as WWF España's patron.
Initially WWF España made no comment on the safari pictures but objections quickly appeared on social networking sites and Twitter.
By 5pm last Sunday, 15,000 people had signed an internet petition calling for the king to step down. WWF España passed on the messages on Monday, explained Secretary General Juan Carlos del Olmo.