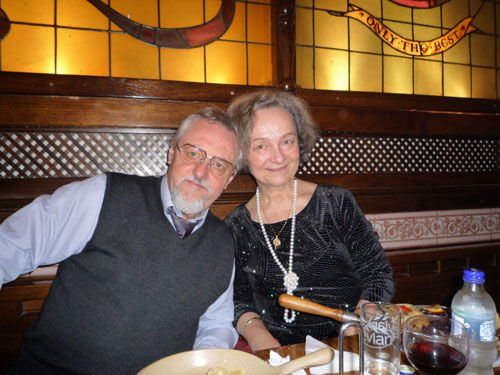 VIKTOR A. DELI'S 'In Love with Colours,' exhibition is on at the Convento la Victoria, in Vera until April 27.
One might compare Deli's life to the "wild, strong bright colours" of his most recent Andalucia-influenced paintings.
Born in Hungary in 1945, his parents left for Sweden when he was 20.
While working as a self-employed glasscutter, painting in his free time, he met his true love, Kristina, on September 29, 1972. The date is etched into their rings.
Deli's parents got permission to leave communist Hungary because having remaining off-spring in the country was seen as a reason for them to return.
"Life was hard for business people then, and taxes were high. It was difficult to get a passport, let alone a visa," said Deli who had to buy expensive travel documents on the black market.
Kristina got permission first; a tourist visa for Paris, where she spent three weeks before travelling to Vienna to wait for her secret fiancé.
Just a day before her visa ran out and she would have had to return to Hungary, Deli's fake permission came through.
He arrived in Vienna on his 28th birthday, October 17, 1973.
"It was such a romantic escape, but I was completely terrified. Kristina was safe because she had a tourist visa, but I could have been shot crossing the border," he said.
The couple travelled to Stockholm and were married on December 23, 1973.
Deli had always wanted to study art but his father had insisted he learned a trade. In Stockholm he studied languages and Art History and sorted mail at the post office three nights a week to pay the bills. He graduated in 1981, and completed a computer science degree in 1984.
Deli, who also taught English, Hungarian and Swedish to school-children, never stopped painting, tried his hand at sculpting, and invented a printing technique that involved using a glass-cutting tool to carve plexi-glass.
Computing became a way for Deli to make a living, working as a programmer for 18 years and owning his own consulting company for four years.
On Good Friday 2003, he suffered a heart attack, which led to bypass surgery.
The couple had owned a holiday home in Vera Playa since the year 2000, and so in 2004, Deli took early retirement and they moved to Spain.
"I was very lucky because I had a government, and a private pension so we were able to come here," said Deli in his Vera duplex with walls covered by his work. "The painting itself is relatively easy. The big job is creating the plan."
He said that a plan often takes weeks, but that he has completed about 140 paintings since he started painting full-time in 2008. In the weeks running up to his exhibition, friend and self-appointed agent Javier, told him to stop painting and focus on the event, but "I have to paint," said Deli.
This is his first exhibition, as until now he only gave away his work to friends and family and did "bespoke paintings," or commissioned pieces.
One of these, an abstract of the five major world currencies with the pound represented by an old falling down building, was for his banker son Christopher in Stockholm.
His sister and son are perhaps his biggest fans, but designer and portrait painter Kristina is his muse, to whom he says, "he mostly listens to, but sometimes not."
The exhibition at the Convento de la Victoria in Vera town consists of 36 paintings which according to Deli, don't follow any rules.
He was not educated in technique, but said that he simply loves painting. "It's true, and I love Spain. It's what made me start painting again.
Just the colours in my garden were enough. I used to paint dirtier colours but the light of Andalucia and the different nuances, even of white, are just incredible."
One day in 2010 Deli decided there was no point trying to imitate real life. "He made an important change in his personal style and these pieces deserve to be shown," said Javier.
Most of his exhibition pieces are abstract, but some of his earlier work is also included, and the painter said he believes it's important to be able to recognise the objects in his paintings.
Deli's exhibition paintings start at €90, but he said that although any artist feels pleasure when others like their work, he's not in it for the money.
Even if he doesn't sell anything, he'll continue painting.
Contact Viktor A. Deli by e-mail at viktor.akos.deli@gmail.com and see his work on Facebook (Viktor Deli).
By Susan Leach
s.leach@euroweeklynews.com