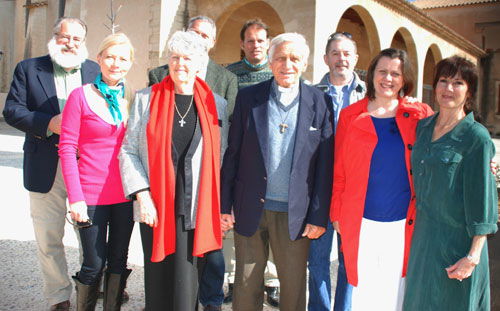 TWO celebrations in one! Not only did the Anglican Congregation of St Andrews in Puerto Pollensa celebrate Easter with a moving Eucharist on Sunday morning, but the preacher, Rev. Roy Greenwood, celebrated his 85th birthday; a double cause for celebration.
The Church in Puerto Pollensa was packed for the service and service sheets and hymn books were in short supply.
The Chaplain in the North of Mallorca, Canon Mel Smith led the Easter Service in the warm and friendly way that his parishioners have got used to, and Fr.Mel encouraged his congregation to give themselves an "Easter clap", and to sing a loud "Happy Birthday to Roy".
After the service the congregation, clutching tiny Easter eggs, joined Roy at a local cafe for birthday cake and coffee and met members of Roy's family who had joined him for the celebrations from across the world.
Amongst those waiting to celebrate with Roy was international footballer Graeme Le Saux, and in a quiet moment Fr. Mel gave Roy a card and a gift sent especially from Fr.Eusebio, the Catholic Priest in the Port.
By Howard Mullen