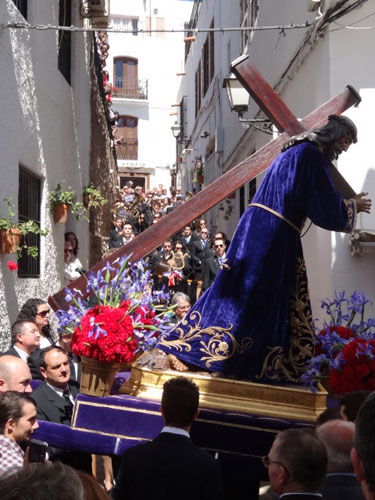 THE Spanish really do go to town with their Semana Santa parades and Mojacar is no exception.
There have been events on all week in the Pueblo but one of the biggest and most important is the Good Friday Procession of a statue of Jesus being taken to be crucified.
This in effect starts as two processions with the statue of Jesus taking one route through the village and Mary another, meeting in a central square before joining together are parading back to the village's beautiful church.
Being Catholic I am a little embarrassed to admit that this was the first time I had ever witnessed this event and to use a biblical phrase, it was a revelation.
The intricacies of the statues, the costumes, flowers and the attention to detail was breathtaking as were the woven standards and the municipal band that followed Jesus on his sombre journey.
Equally amazing were the number of visitors in attendance and the quantity of foreigners which were made up of both tourists and expats.
PP Councillor Maria Luisa Perez Lopez said: "The attendance this year has been very high to all events we have held and the numbers of English dramatically up for Easter and The Dia de Andalucia earlier in the year.
I would like to thank Spectrum radio for getting the information out to the English speaking community" she said.
The whole event was incredibly moving and the backdrop of Mojacar village in all its glory made it all the more special.
People following the statue of Jesus through tiny cobbled and whitewashed streets was truly reminiscent of going back in time.
Being blessed with perfect weather which was not meant to be the case from the forecast earlier in the week certainly played its part and if you missed The Good Friday Procession I strongly advise you to make a mental note to attend next year.
You will not be disappointed.
To see all of the photos of the day please like our new page of facebook 'Spectrum 92.6FM Costa Almeria' where you will find all event photos.
By Richard Shanley