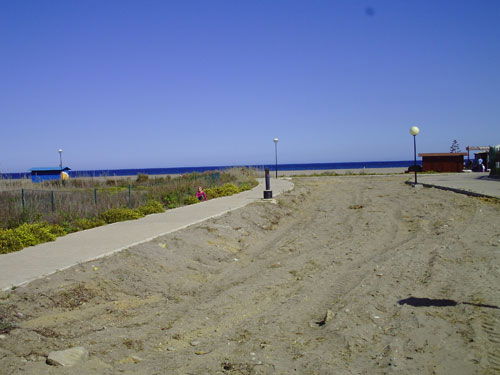 VERA town hall employees reportedly stripped a protected area of the beach of indigenous plants with heavy machinery.
The 'Charco del Gato', area of the Playazo beach had been 'cleaned,' using heavy machinery and that the extent of the ecological disaster was not yet known, a local Spanish daily reported.
At the time of going to print tyre tracks were visible in the sand, that is almost bare apart from some dried out plant stumps.
The report listed Tamarindo, Centaura Seridis and Lagurus Ovatus, as some of the plants destroyed during the cleaning, which, it said was reported to SEPRONA, the environmental unit of the Guardia Civil.
The family and owners of the Pizzeria Pomodoro, situated on the beach adjacent to the land, said that the area is usually carefully trimmed and weeded every year by Vera town hall employees, without disturbing the fauna.
They said that they found it strange that the town hall had razed the plants to the ground just before Easter Week this year.
Before the cleaning, the area of the beach between the restaurant and the road had been reportedly covered with yellow flowers and other plants.
Vera Town Hall spokesperson, Jose A. Fernandez said that the Charco del Gato protected area had not been touched and that the cleaned area is classified as a municipal green area, but not protected land.
He said that indigenous plants grow on a different part of the beach, and that the piece of land mentioned, had simply been 'weeded' to tidy it up, and prevent insects and public health problems.
Vera town hall also confirmed that the construction of a water channel connected to the Rambla del Algarrobo, is planned for that part of the beach, and that the project has been approved by the Junta de Andalucia.
The restaurant owners said that they had never heard of any plans for a water channel but that a drain might be a good idea because the area tends to flood when it rains.
However, they said, they wouldn't like to have a water channel or drain next to their restaurant as it would be unpleasant for their customers and people living near by.
By Susan Leach
s.leach@euroweeklynews.com