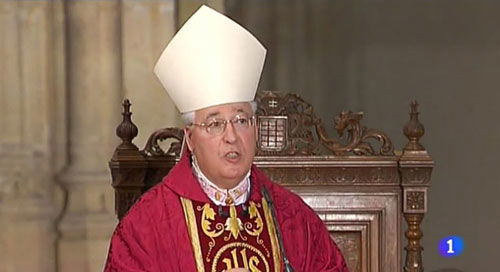 A TELEVISED Good Friday sermon associating homosexuality with prostitution was examined earlier this week at an RTVE board meeting.
Officials of the state broadcaster met to analyse whether or not to protest to the Church authorities after Juan Antonio Reig Pla, bishop of Alcala de Henares, claimed in a live broadcast that homosexuals are "misled by so many ideologies" and "cannot properly orientate human sexuality."
Having been attracted to the same sex since childhood, homosexuals are likely to be corrupted or turn to prostitution, he continued.
He then turned to women who had abortions, describing them as "unable to sleep because of the sin they have committed."
The bishop's words were an incitement to hatred and scorn both for homosexuals and women, claimed Boti Garcia, president of Spain's lesbian, gay, transsexual and bisexual association, Felgltb.
Homophobia created profound social suffering and every year there were adolescents who took their own lives because they could not endure feeling excluded, said Garcia.
As state broadcaster, RTVE should not have broadcast a religious ceremony, she maintained, and asked for the video of Reig Pla's sermon to be removed from its website.
In Barcelona, Cardinal Lluis Martinez-Sistach distanced himself from Reig Pla.
"They are people like everyone else and deserve to be treated with dignity," said the cardinal in a call for respect towards homosexuals.
The Church should be open to all people with religious feelings," Martinez-Sistach said, "and that process should be above ideology" although he stressed that their behaviour was a different matter.
"According to our faith, the behaviour of people can be good, or not," he explained
By Linda Hall