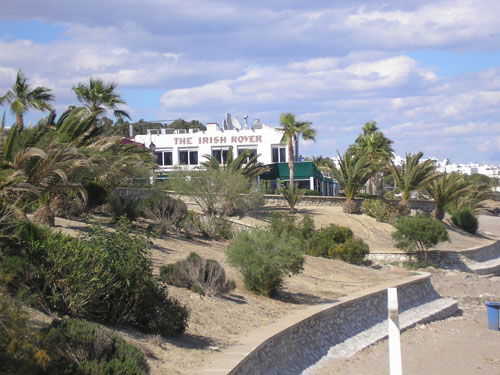 MOJACAR restaurant owners have been informed by the town hall that computerised sound-monitoring equipment that they were forced to spend thousands of euros on last year, is now obsolete.
Ten months ago the town hall ordered all restaurants in Mojacar Playa with sound systems, to buy the equipment which was connected to the police station.
If the volume rose above the specified legal limit then police would be sent to the restaurant.
Cheryl, of the Irish Rover bar said that at a town hall meeting on Thursday March 29, Conservative (PP) Mayor Rosa Maria Cano told restaurant and bar owners that the sound-monitoring system would no longer be used. The Irish Rover along with other bars now complain that their money has been 'thrown away.'
Cheryl said that the Irish Rover and other restaurants have been reclassified as 'café-bars,' and that they will now have to apply in writing for advance permission every time they plan to stage live music.
Cheryl and other bar and restaurants owners in Mojacar feel that their hands are tied, because if they don't do as the town hall orders they could be fined or closed.
But a source at Mojacar Town Hall told EWN this is not their fault but is due to new regulations* which came into force in January.
It cannot be held responsible for changes which have been made to the laws which regulate acoustic contamination in Andalucia, the source said.
Last year, they put measures in place to limit noise from bars "the best way they could, obviously not knowing at the time that a few months later the regulations would be changed", they said.
However, "new regulations are now in place and these will also have to be enforced."
Meanwhile, Jose (senior) of El Lance and Valery's Bar, whose official legal complaint (denuncia) against the town hall, lodged four years ago, is still in process, calls for owners to stand together.
He told the EWN that his son had been forced to spend €3,000 on sound-monitoring equipment last summer for Valery's Bar, and that it's totally unacceptable for the town hall to scrap the system and change the rules just a few months later.
He believes that by obliging restaurant owners to spend money on expensive equipment, the town hall intended to make voters believe that something was being done about complaints regarding noisy beach parties.
Another British restaurant admitted that last year there were many complaints made to the town hall about noise and 'anti-social' behaviour in Mojacar Playa.
However, he said that most of these complaints were about beach and street parties, known as 'botellones,' not actual bars and restaurants.
Jose said that bar owners can control the noise and behaviour of their customers, while on their premises, but can't do anything about the public's behaviour on the street.
He said that this is the local police's job.
It is unknown how, or whether the authorities will control or restrict the behaviour of hundreds of mostly university students coming to Mojacar for the 'Spring break,' parties planned for thie week (April 11-14).
In January this year, Mojacar town hall said that they would do everything possible to prevent 'scandalous behaviour,' that could spoil the town's image as a family tourist destination.
Both Cheryl and Jose agreed that now, more than ever, the town hall should be supporting local tax-paying businesses that help attract tourists to Mojacar.
Cheryl said that it needs to be made clear which areas are residential and which are 'entertainment' areas. Jose, wishes to inform all Mojacar Playa bar and restaurant owners, that a bar-restaurant owners' official association will soon be formed in order to defend the sector's interests, and sort out the situation once and for all.
Jose, whose son Jose (junior) speaks fluent English, said that British business owners shouldn't be afraid of the town hall, and that in union, it will be easier to get something done about the situation.
He told the EWN that he will inform readers next week about how to join the association.
* Decreto 6/2012, de 17 de enero
By Susan Leach
s.leach@euroweeklynews.com