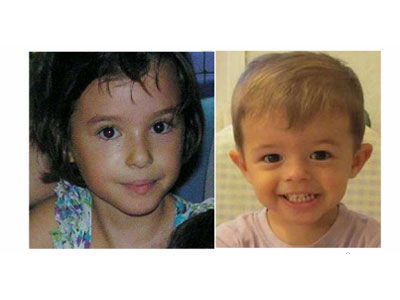 MORE than 1,000 people protested in Cordoba, demanding news of missing Ruth and Jose.
The demonstrators were led by the children's mother, Ruth Ortiz, who carried a banner with photos of her two children and the heading "We want to come home!"
Aged six and two, they disappeared from Cruz Conde park last October while in the care of their father, Jose Breton, who is separated from their mother.
Ruth and Jose vanished while his back was turned, he claimed, but despite intensive police searches, their whereabouts remain unknown.
Breton is now imprisoned on remand. Ruth Ortiz was accompanied by the parents of Marta del Castillo, the 17-year-old murdered in January 2009 whose body has yet to be located.
Also there was Maria del Mar Bermudez, the mother of 22-year-old Sandra Palo, murdered in Madrid in May 2009.
This was the latest in a series of demonstrations calling for news of two children and was the first time that Ruth and Jose's paternal grandparents took part.
Although not at the head of the procession they walked beside people carrying banners critical of Jose Breton, dubbing him "coward" and "criminal."
"We want to know where Ruth and Jose are" and "Freedom for Ruth and Jose" other placards proclaimed, while one urged Breton's lawyer to persuade him to tell the truth.
Onlookers encouraged Ruth Ortiz as the demonstrators as the procession wound through the centre of Cordoba.
"Be brave," some called out, "you're not going to suffer any more.
We'll find them." In a message to her children at the end of the hour-and-a-half demonstration, Ruth Ortiz assured Ruth and Jose that "only a few people had no interest in discovering where they were" but she "and many, many other people" would search for them forever.
Declining to comment on the presence of the children's paternal grandparents, Ortiz insisted that she had the strength to go on fighting.
"My children were always smiling and I have to go on smiling for their sake," she explained.