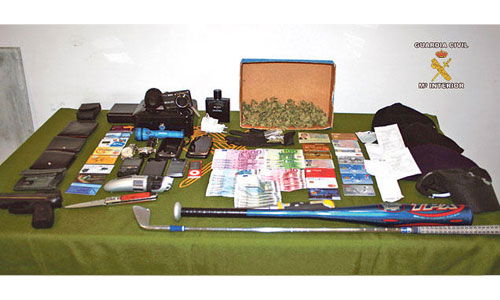 SIX people were arrested in Pollença in connection with the violent burglary of a house in Santa Margalida.
Three Romanian and Police men reportedly hit the German couple staying at the villa with a golf club, tied them up and robbed them.
Three of the suspects are women. The three men worked as bouncers at discos in the area, according to Spanish Press reports.
The German couple, aged 66 and 58, who had been renting the villa on Cami de Sa Carrerassa for the holidays, suffered various injuries to the head, neck, chest and wrists.
A police patrol in Port d'Alcudia noticed two people trying to hide two plastic bags in the bushes.
Inside the bags were black clothes similar to those used in the burglary, lanterns and the personal documents of the German couple.
One of the people was carrying large quantities of money, believed to have been stolen from the victims.
A third suspect was stopped coming out of his home carrying a bag.
Inside were the victim's watches and mobile phones as well as an imitation gun, a golf club and a baseball bat.
The girlfriends of the three suspects were also arrested as possible accomplices to the burglary.