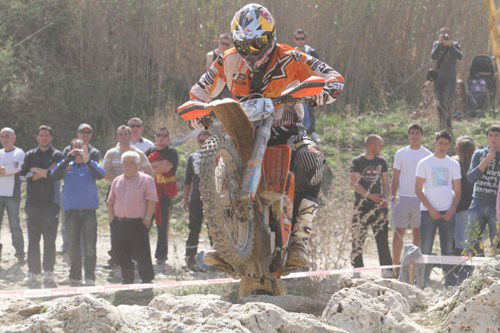 ENDURO off-road biker David Knight had to pull out towards the end of his second lap in the Spanish Championship round in Antas, on Sunday because of an ongoing clutch problem.
He told the EWN that he was doing some last-minute testing before the world championships that begin in Talca, Chile.
He said it was, "better to find the problem here, than next week." Thirty three year old Knight, of the Isle of Man, explained that the bike had had the same problem in the first round of the Spanish championships in Vinaros, Castellon, the week before.
That was why he had decided to take part in the Antas round.
Knight said that his KTM team-mates' bikes were problem-free but that his, more powerful bike, had recently had a new clutch system put in which is prone to over-heating.
The bike that he'll ride in Chile also currently has the new clutch system, so Knight and the KTM mechanics have decided to pull it out and refit the old one.
He said that he had phoned a junior team-mate in the UK who will be meeting them in Chile and asked him to bring over a bike part.
He's confident that with the old system refitted he'll be all set for the world championship race.
Although he had been in town since the Thursday before, staying at the Hotel Mexico in Vera Playa, Knight said that he hadn't had time to see or do anything in the area.
He said that he usually just flew into places, raced and left again, and didn't get much time for being a tourist. The weather was lovely though, he said and anticipated that the temperatures in Chile would be similar.
Knight and some team-mates were planning on going karting at the Garrucha track after the awards ceremony which was held in Antas' main square.
While the mechanics worked on Knight's bike, he waited for fellow riders to finish the off-road race organised by the Antas 100 Mile Club, enjoyed the sunshine and chatted amiably, while signing fan's autograph books.
He told the EWN that he'd started off-road racing when he was 19 and that his brother had also ridden.
Growing up on the Isle of Man, race fever was always in the air and he commented that his mum was pleased he became an off-road rider, not a track racer, especially as they had lost friends in the TT races.
Knight said that he thought his former team-mate, Ivan Cervantes, five times world champion (Gas Gas) had been leading the race until he fell at the third crono (timed stage), losing two minutes and falling back to finally take third place.
Fellow KTM riders, Spanish Cristobal Guerrero and former indoor champion Taduesz Blazusiak (Poland), took first and second places, respectively in Category 2.
The Antas' mayor Isabel Belmonte presented the winners of each category with traditional Spanish-ceramic trophies, including the only female in the round, KTM rider Rosa Romero.
David Knight, said that he may come over to Spain again this year for some more Spanish championship races.
By Susan Leach
s.leach@euroweeklynews.com