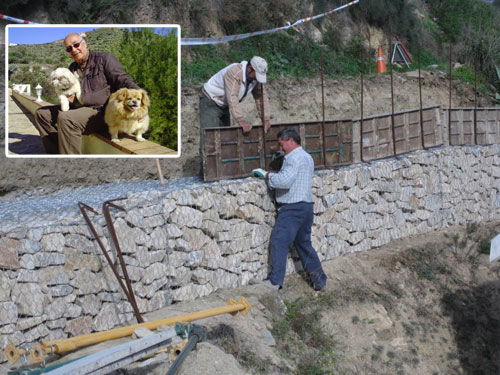 A BRITISH couple, who have been living in fear for eight years, say that they are now "finally able to sleep again at night." John Massey, 66, recently showed this EWN reporter a dangerous hole in the road that lies above and adjacent to his Bedar home.
The hole was at the edge of the road and the mountainside was crumbling away onto their driveway.
John said that he had seen vehicles almost fall off the side of the road into his front yard many times and was afraid somebody would be killed.
Mr. Massey, a retired electrical engineer, said that in 2004, because of torrential rain, the road that runs alongside his property became a raging river.
Water ran through the back of his property and caused a 35 metre long landslide directly in front of the Massey's house, and the foundations became exposed.
His wife, Diana Massey said that the damage cost more than €15.000 to repair, €5,000 of which was paid for by their insurance company.
After this, the Massey's had a meeting with the Bedar mayor and requested that the roadside be secured to prevent any further damage to their property.
The meeting was unsuccessful.
They themselves then hired a builder to install a single course of blocks to form a steep kerb alongside the road, try to direct the rainwater, and to help prevent vehicles slipping over the bank.
Mrs. Massey said that since then, the road, including their driveway, has been classified a 30 metre-wide cattle track, by the Junta de Andalucia.
The Massey's made several visits to the regional government offices in Almeria from 2004 onwards but nothing was resolved and no permission was given to build a retention wall.
At the end of November 2011, heavy rain made a hole underneath the block kerb at the edge of the road, causing water and mud to enter the Massey's property again.
"Following previous damage, one can imagine our horror of any future damage as a result of any further rains," said Mrs. Massey. She said that following another visit to Bedar town hall in December 2011, a representative of the Junta de Andalucia inspected the damage, and agreed that the matter required immediate attention.
On February 27, after four more town hall visits, work started, and on March 12 the road was completely repaired and a crash barrier installed.
By Susan Leach
s.leach@euroweeklynews.com