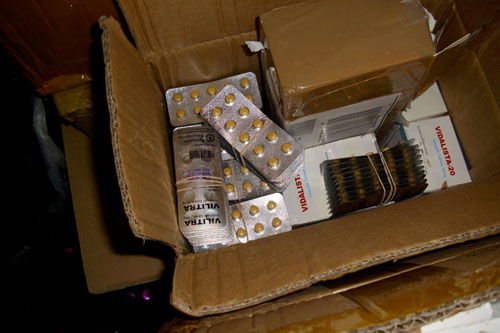 SIX people have been arrested and almost 300,000 doses of fake medication seized in Murcia, according to a statement by Europol which coordinated the operation.
The criminals arrested are suspected of having been responsible for the import and distribution of large amounts of dangerous counterfeit medicines in Europe.
House raids of five homes in Lorca and Puerto Lumbreras (Murcia) and of three properties in Britain were the result of an international police operation spanning several months.
Two British men were arrested in UK, and in Spain the four taken into custody include: a Dutch man; a Spanish man and a Romanian man and woman.
The members of the criminal gang were importing fake pharmaceuticals from Asia – mainly China and Singapore – and distributing them via the internet to 'customers' throughout Europe.
Amongst the drugs on sale by the criminals were well-known brands, as well as generic medicines manufactured in clandestine laboratories in the source countries. Unlicensed, untested and potentially laced with dangerous filler ingredients, fake medicine can put users' health, and even life, at risk, Europol warn.
Three pharmaceutical companies which were affected by the fraudsters, Pfizer, Eli Lilly and Sanofi Aventis, have collaborated with the authorities in this investigation.
By John Jackson