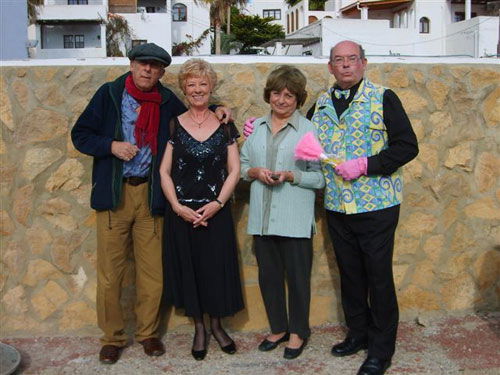 A Talent To Amuse And Entertain lived up to its name.
Raise a section of the restaurant to provide a stage, provide a few props and you have a workshop allowing actors and actresses to ply their trade.
Quiet anticipation as Zelda Jones walks out onto the stage. Altogether Zelda performed three very different pieces.
First of all "Is there a heaven for cats?"
Followed by what it is like being married to Aesop and finally a wonderful conversation between Hamlet and his mother.
All performed with the polish we have come to expect from such an accomplished actress.
Well known actress Janet Franklin used the stage well and had the confidence to take command of the whole of it pulling our heart strings as each piece of drama is unfolded.
Moving around using the pause for greatest effect, raising and lowering her voice to convey the range of emotions of sympathy, surprise and new knowledge of the secrets of the Mc Corquodale family and of her husband.
Janet showed her experience on the stage which was widely praised both in the audience and no doubt from her colleagues. Worth making a note in your diary for her next show.
Robin Wright who is well known and very accomplished on bass and Flamenco guitar was recently acclaimed for his portrayal of Fagin with the Indalo Players.
He regaled us first with advice from Hamlet, "To Wed, or not to Wed." Totally changing tack he then related tales from the Norfolk Broads, his accent perfect and delivery timed to perfection.
Bill White lived the part of Lance, the antique shop owner, always looking for the main chance.
His body language used to good effect. We are in the shop living his world moving from situation to situation and place to place.
Throughout the piece he maintained our curiosity and delivers the punch- line with perfect aplomb.
All the actors and actresses used their skill to translate the stories onto a human level we could empathise with.
If there was a down side it was that more people weren't there to appreciate the skill of the author, the dedication and commitment of the actors and actresses and in the manipulation of our emotions.
One minute laughing the other almost crying. Well done in giving us true entertainment at is best.
By Michael Palmer