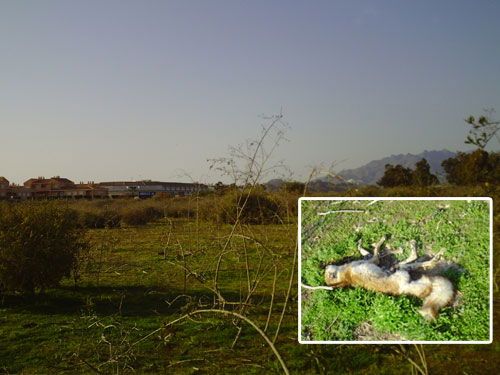 A SPANISH woman who found a dead wild boar on land near the Buganvillas roundabout warns that dog walkers should be alert because hunters are putting down poison.
Natacha Navarro of Vera said that in January when she found the dead boar she was going to inform the police.
She said she assumed it had been poisoned because it didn't have any blood on it, and there were no holes in its body.
When she returned the following day to photograph the animal, as evidence to take to the police station, it was no longer there.
On Saturday March 11 Navarro and another Spanish woman took the EWN reporter to see the body of another dead animal, a fox, on the same piece of land.
The woman said that more than one month ago she had been out walking when she came across the alive, but subdued fox.
When she returned from her walk some 20 minutes later, the fox was lying dead, with no blood or wounds.
A report in an Alicante English language newspaper on November 11 last year, revealed that four dogs had been killed by hunters' poison.
In the report, Mark Lewis, who runs the Pets in Spain website, said poison is put down by hunters to kill foxes.
"The hunters want to keep the fox population down so there will be more rabbits to shoot for sport. The poison is put into meat which, as herbivores, the rabbits don't eat."
This EWN reporter saw wild boar footprints, craters known as, "camas" (beds), in the dirt that boars had rolled in, tin cans with bullets holes, dead rabbits and wire traps in the entrance to rabbit warrens.
All of this hunting evidence can be seen within a few hundred metres of the Garrucha to Vera road and Buganvillas roundabout. The women, one of whom said she has lived for years in rural areas and is familiar with hunters' techniques, said it's common to see pieces of bait and poisoned meat on the ground in the same area.
They also said that they had heard gun-shots in the area.
At 7pm on March 1, the Guardia Civil environmental police (SEPRONA) caught five hunters after having seen bait in the Rio Aguas rambla near La Mata, Mojacar.
The SEPRONA agents saw the hunters lay down corn bait for wild boar and then hide nearby with bows and arrows. The agents confiscated the hunters' equipment and filed a police report (denuncia).
The area where the hunters were caught, is frequently used by pedestrians and traffic, according to the Spanish news website, Noticias Levante.
On the Junta de Andalucia's website it shows that the legal hunting season for wild boar in Almeria ended on February 12 and for rabbits on November 27.
Navarro said that many people in Spain don't respect the laws regarding hunting seasons and minimum distances from houses anyway.
She warns readers to be alert to what their dogs pick up when out walking, and encourages people to immediately take photos of evidence of illegal hunting, and report it to SEPRONA at the nearest Guardia Civil police station.
By Susan Leach