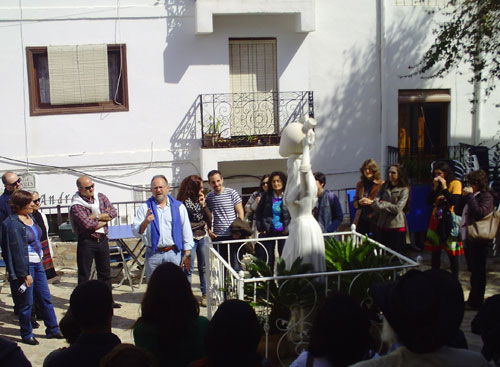 TEACHERS came to the Valle de Este Hotel, Vera from all over Spain, for a three day congress.
The "Philosophy for children," congress was part of the national democracy and education week, and was attended by about 120 teachers, university students, and also some parents.
As well as the academic part of the congress, there were flamenco and drum workshops, and on Friday March 9 about 50 teachers went on a guided tour of Mojacar Pueblo.
Thirty three year old Jaime Roldan, who teaches in Cuenca said that he loved Mojacar's character and that it reminded him of Vejer de la Frontera in Cadiz.
Tour guide Jose Montoya who lives and works in Mojacar, said that the one hour tour was too short to properly show them the town but that the group was lively and he thought they had been suitably impressed.
Teachers and parents took part in conferences, workshops, and activities related to philosophy at the congress.
They shared ideas about teaching children to think for themselves in line with the Philosophy for Children (P4C) movement founded by the American professor, Matthew Lipman.
It's believed that P4C could help move society towards a more democratic democracy, and Lipman said that if we want to have adults who think for themselves then we must teach children to think for themselves.
A study conducted in Cataluña and presented by teacher Irene de Puig at the congress, showed positive results for the P4C programme.
Students began to think more independently, respect opinions and listen more, have higher self esteem and work together better. Their written work improved too.
High school teachers from Pulpi and Cuevas de Almanzora presented their student's award-winning video.
In their presentation, "Video killed the cardboard star," the teachers explained that using technology in the classroom is a great way to motivate students and get them to work together.
They showed videos that their high-school students had produced about domestic violence, the Haiti earthquake and racism.
To end the congress on Saturday evening, there was a theatre performance by a group of Mojacar High School students.
It was an original comedy called "Poppy's journey," with characters including a tin man, a talking tree, a medical student and an unemployed clown.
The theme was about how important it is to focus more on philosophical elements, and less on the material side of life.
Martin Parra, a Vera high school philosophy teacher said that people had showed a lot of imagination and that he had got some new ideas from the congress.
The Almeria parents' association (FAPACE) who helped promote the congress, organises and participates in conferences, courses and events for parents throughout the school year.
For more information about FAPACE and their planned activities, visit www.fapacealmeria.org
By Susan Leach