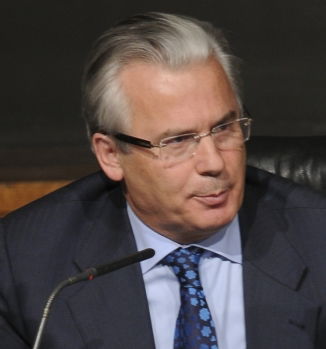 SPANISH Judge Baltasar Garzon has resigned from the European Committee for the Prevention of Torture (CPT).
The reason, he said, was to prevent his continued presence from resulting in adverse criticism of this "honourable Committee"..
This follows him being expelled from the judiciary for 11 years recently over illegal wiretapping.
Garzon, who represented Spain on the CPT since last November, was suspended in May 2010 pending trial for ordering phone-tapping in the Gurtel corruption case.
He was also prosecuted for investigating Franco's crimes against humanity and taking bribes.
Banned from practising as a judge after being found guilty on the first count, Garzon explained in a letter to the CPT that the sentence would be appealed to the Constitutional Court of Spain "and, if necessary" to the European Court of Human Rights. "Nevertheless, currently the sentence stands," explained the letter which was written in English.
"It is true that this sentence does not affect my status as a member of the CPT and, although I consider myself innocent, I offer my resignation as a member of the CPT because, although I am an independent member, I also represent Spain.
As well as the 11-year suspension, Garzon was also ordered to pay costs, including those of the private action, although the Supreme Court announced last week that Garzon need only pay the fees of Jose Antonio Choclan.
Choclan represented Francisco Correa, alleged head of the Gurtel corruption network, and the ruling applied because Correa expressly requested costs in his accusation.
The lawyer Ignacio Pelaez, who initiated the private action against Garzon, requested costs "in broad terms" according to the court, while Correa's right-hand man Pablo Crespo, made no mention of them at all.
Photo credit: Casa de America
By Linda Hall