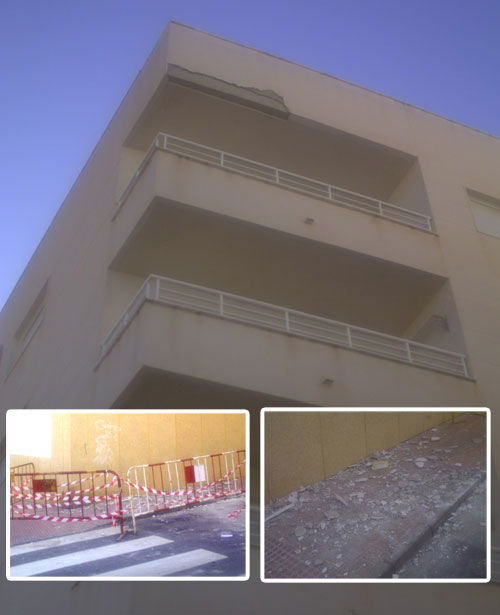 A BRITISH woman who lives in the Mercadona area of Garrucha saw police take photographs of the building where she owns a flat, after chunks of plaster and cement fell from the top floor.
She said that last Saturday a British friend of hers walked his dog by the still intact building, on returning minutes later, chunks of the wall were on the ground. She said that luckily nobody was hurt.
On Monday March 12 pieces of the building could be seen on the pavement and road at the top corner of Calle Tenis.
Judith Houston who has been living in Garrucha for four years, said she wasn't surprised.
Houston and other British people who live in the building, told the EWN that they realised quite soon after moving in, that the building where they had bought apartments had (and has) structural problems.
They said that the rooftop swimming pool had leaked into their apartments causing damage to their homes and possessions.
The residents' association cannot fund all the necessary repairs because thousands of Euros are owed in unpaid community charges.
By Susan Leach