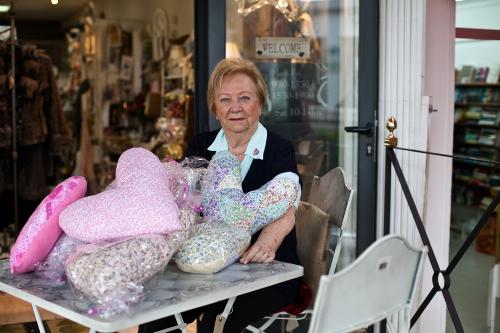 THE spirit of volunteerism is definitely on the rise.
What's more, the people who give their time and energy towards a cause that is making a difference to the hospitals in Palma de Mallorca, are being rewarded in a way that money could never accomplish.
The Heart Pillow, which has extended to the Spanish mainland, is designed to be placed under the arm to ease pain from the surgical incision and tension along with helping reduce lymph swelling under the arm.
It can be used under the seat belt when driving and also while lying on your side.
We will be able to complete our project little by little and with the help of many friends and clubs and various associations, we hope to cover the whole of Spanish Hospitals on the mainland.
There are already different volunteer groups in 70 different cities in Spain who give Heart Pillows to their local hospitals.
The Heart Pillow program started as a volunteer project coordinated by Maria Jose Loly de Cooman (Micky) in Palma in June 2010.
Micky found this project on the internet; it was already functioning in Denmark in all hospitals, and was captivated.
She contacted Nancy Friis, who brought the idea to Denmark, and with her counsel and help started it here in the island. Micky´s vision would not have been so easy without the aid of Cosipatchwork, a group of quilters dedicated to make the patchwork, and church groups such as the Church of Jesus Christ of L.D.S. who immediately offered to sew the pillows.
The Heart Pillow project is always looking for extra hands and it is possible to help in many different ways such as through sewing and stuffing the pillows themselves or by donating new fabric.
If you underwent breast surgery you can come and pick up a Heart Pillow completely free of charge from Joanna's STUDIO 3, close to the Banco de Credito Balear, on the mainroad in Portals in front of Chameli's. Information is available online at www.almohadadelcorazon.com and www.almohadadelcorazon.blogspot.com or on Facebook by searching for: project Micky heartpillow.
Alternatively call Micky : 971 67 64 20 or 617 658 447 today and enjoy the rewards of changing lives.