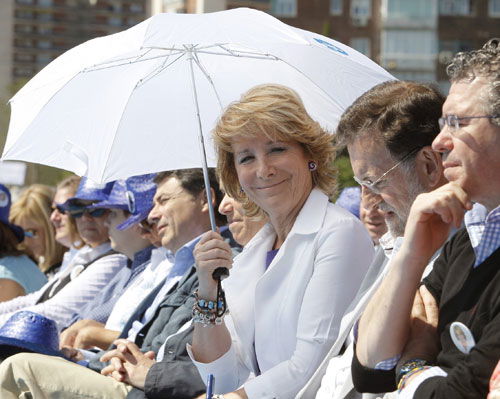 SPAIN'S politicians fail to dress in accordance with ideology or convey security, approachability and confidence, according to a new book.
The majority wore the wrong clothes, wrote author Patrycia Centeno, with only Justice minister Alberto Ruiz-Gallardon and Josep Antoni Duran y Lleida, leader of the Catalan CiU part, passing muster.
Public figures should not be expected to look like Hollywood stars, Centeno insisted, but should instead offer an image "coherent with what they think and what they want to get across."
"Politicians of all parties dress the same. You only have to look at meetings between employers and the unions. Who's who?" she asked in Política y moda. La imagen del poder.
Ostentation did not go down well with the public, said the writer who cited the Hermes belt worn by the former president, socialist Jose Luis Rodriguez Zapatero at the height of the economic crisis.
There was also censure for the Rolex worn by another socialist, UGT leader Candido Mendez. The late Communist MP and union leader Marcelino Camacho wore jerseys that were hand-knitted by his wife Josefina and he had a believable image, wrote Centeno.
Politicians in the past looked more plausible than their modern counterparts, she argued. Maria Dolores de Cospedal, secretary general of the conservative PP did not escape Centeno's disapproval and was criticised on ideological-aesthetic grounds for wearing a Palestinian keffiyah scarf in shades of lilac.
Female politicians were generally let off more lightly by Centeno, who approved of the way that the majority had created their own look.
Esperanza Aguirre, president of the Madrid region, never went unnoticed, she said: "She has such a strong political personality that she can even get away with miniskirts."
However, former socialist vice-president Maria Teresa Fernandez de la Vega did not get it quite right in the author's opinion.
Often described as a fashion victim for wearing strident colours and aggressive makeup, the public would have paid less attention to her appearance if she had toned things down, Centeno suggested.
By Linda Hall