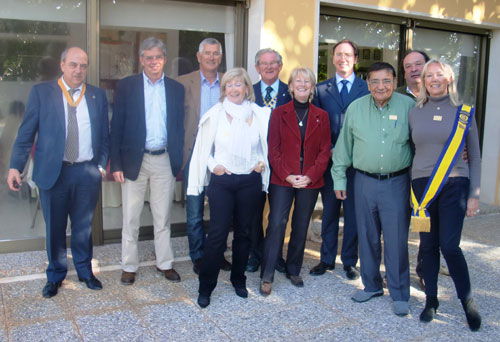 THE Rotary Club of Calvia enjoyed the pleasure of having H. M. Consul Paul Abrey as a guest of honour and speaker at a recent club meeting.
With some six years of experience as Consul in the Balearic Islands he had numerous anecdotes to tell which kept members and guests fascinated.
He continued on a more serious note to talk of the changes in recent years in tourism, and the effect not only on the workload of the British Consulate in Mallorca, but also on the offices of both Ibiza and Menorca.
He explained that only a few years ago some 75% of British tourists travelled with tour-operators who had representatives "on the ground" to care for their clients.
This has all changed however, and the Consul explained that most visitors now arrive on seat-only flights, and reserve their own accommodation.
Similarly, the average age of these tourists arriving in high season has reduced considerably.
The afternoon ended on a joyous note with confirmation of the Consul's full support for the Rotary Club of Calvia's celebration of the British Queen's Diamond Jubilee.
This celebration will take place on Monday June 4 with a "garden party" at the Santa Ponsa Golf Hotel from 5pm.