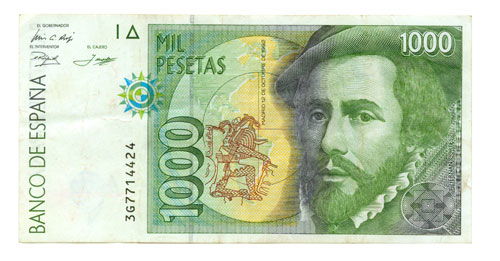 TEN years after the euro became legal tender, the Spanish still hold €1.70 billion in unchanged peseta notes and coins.
This compares with €1.72 billion last year and suggests that out of necessity or from choice, €16 millions-worth of pesetas were cashed with the Bank of Spain.
Dividing the remaining €1.70 billion amongst the population would provide every man, woman and child in Spain €40. The number of unchanged peseta banknotes dropped by 0.92 per cent to €894 million and coins fell by 0.24 per cent to €811 million.
Despite the intervening years, there is no time limit on changing pesetas at the Bank of Spain in Madrid or its provincial branches.
Nor is there a limit on the amounts that can be changed, although identification could be required for sums exceeding €3,000 to prevent money-laundering.
The effects of recession and the economic crisis on the submerged economy have also affected the number of euro banknotes in circulation, which fell by 3.7 per cent in January 2012, compared with the previous year.
This was particularly noticeable with €500 notes, of which there were 4 million fewer, worth €2,000 million. Banknotes worth €67.62 billion – €49,936 in high-denominations – are circulating at present.
The number of €200 notes – of which 16 million were issued – fell last month by 11.8 per cent to a value of €3.26 billion while there were also fewer €100 notes.
With 45 million issued, the value of those in circulation fell from €5.53 billion in January 2011 to €4,495 million in January this year.
In contrast, there were more €50 notes last January than in January 2011, rising by 3.5 per cent to €34,632. There were also fewer small-denomination notes, with a loss of €264 million in €5 notes, €6,482 in €10 notes and €17.96 billion in €20 notes.
Tourism was largely responsible for the shortfall in the smaller notes, as eurozone tourists take these home to spend.