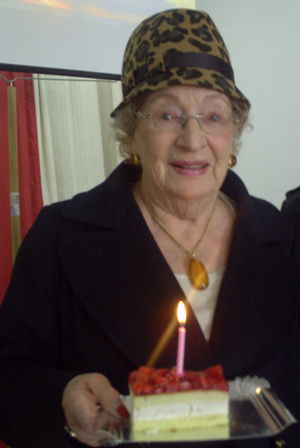 Robbie Thompson's birthday came early this year when friends at the Turre Evangelical church gave her a surprise birthday cake and sung happy birthday on Sunday February 26.
Robbie who will be 90 years old on Match 6 was visiting from the UK with her daughter Denise Reed, but they'll fly back on Thursday March 1in time for a birthday dinner with her three daughters, two of whom are also pensioners.
She lived in Spain for more than 20 years in Enix, Mojacar and Turre with her late husband Kenneth who passed away on April 15 last year, aged 88.
"He was my toy boy," said Robbie, telling the EWN that he had received a medal and a letter from Kind George VI for bravery in the war.
He landed a plane blind when shards of glass flew into his eyes. An eye surgeon was located on landing and Kenneth's sight was restored.
They were both members of the Indalo Bowls club and Kenneth was the freemason who started the mason's lodge in Roquetas del Mar.
Scottish born Robbie said that she loves Spain and misses the lifestyle she had here, now that she's living in England again.
She said she doesn't miss the noise though and that she preferred Mojacar in the old days before it became cosmopolitan.
Another thing she misses is her beloved pet Chihuahua-Jack Russel cross, eleven year old Alfie who she cannot take to England with her.
Alfie prefers women to men but, Robbie says he is very lovable and is staying at the Five Bone pet hotel for now until she finds him a loving home.
To find out more about Alfie, call Mark or Georgina at Five Bone on 630 234 556.
Robbie said that she definitely wants to make the big 100, but she wants to get her telegraph from the Queen not a new king.