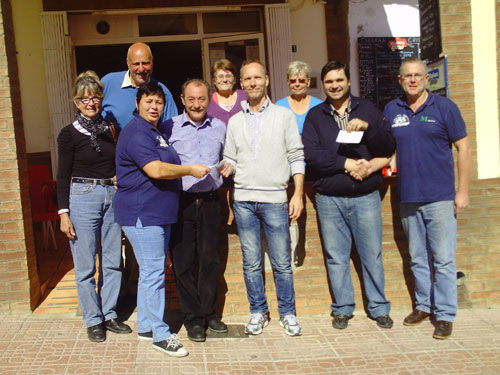 ONE THOUSAND Euros was given to ASPRODALBA, and €400 to the Villaricos Catholic church at Taberna Cristina, Villaricos.
The money was raised by the annual 'Wacky Races,' organised by the Taberna last October.
Local PAWS dog charity received €370 worth of food, also paid for by fundsraised. Mark Bourne, whose son attends the ASPRODALBA day centre in Vera, for people with disabilities expressed his gratitude for the cheque.
He said, "The association is always short of money, and particularly at the moment," The day centre has an asbestos roof which is in dire need of replacement.
Local priest, Antonio Bravo said thank you for the generous donation which will be used to buy flowers for Easter week and in memory of Neil Ashton, an active and well-loved member of Villaricos' expatriate community who passed away last year.
The priest invited EWN readers to the town's Palm Sunday procession on April 1 which will leave the church at 12pm and arrive about an hour later at the port, where doves will be released into the air.
The Mayor of Villaricos, Paco Rodriguez said that the expatriate community in his town is exceptional and that the cooperation between Spanish and English residents is fantastic.
He also thanked the organisers for supporting the town's Easter Week celebrations. Irene of Taberna Cristina said that there was an equal number of both nationalities driving the karts in last year's Wacky Races and she hopes that there'll be even more participants this October.
There's a jumble sale stall planned for March to raise money for the Wacky Races fund.
Look out for the date in the EWN.
Donations of clothes, books and bric-a-brac should be taken to Taberna Cristina.
For further details about ASPRODALBA and to offer support (financial or otherwise) for their roof replacement project, contact 950 360 745.
To take part in the Wacky Races 2012 by entering a kart or holding a stall, you must register in person with Martyn or Irene at Taberna Cristina or by calling Barbara Bower on 610323149 before the end of August.
Barbara can also give you more information about the March jumble-sale stall.
By Susan Leach