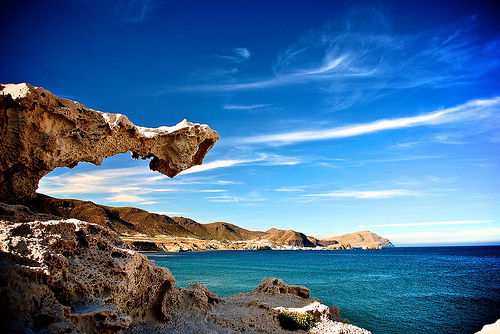 THE Cabo de Gata – Nijar Natural Park is a favourite with tourists who have a high spending power, according to a new survey.
Oak Power Communication carried out a survey with 700 travellers at the FITUR International Tourism Fair in Madrid which revealed that those with high spending power prefer natural destinations which respect the environment, and amongst the favourites are Cabo de Gata, Tarifa (Cadiz), Asturias, Cantabria, Lanzarote, Menorca, Navarra and the Pyrenees.
The survey was carried out amongst people who spend between €2,000 and €3,000 on each holiday, most of them Spanish, although respondents included French, German, English and Italian people.
Of these almost 1 in four said that a destination being 'environmentally friendly' was at the top of their list of importance, even more than originality or attention to the tourist.
Another quarter want complexes which are "integrated with nature", while 25.5 per cent want a gourmet restaurant at their destination which uses ecological products which are in season and sourced locally, if possible on site.
Photo credit: 2$k€tchY4U
By Jennifer Leighfield