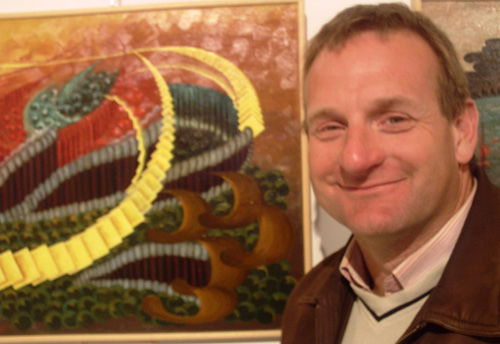 AN EXHIBITION by the inventor of 'Sonism,' (the visual description of sound), opened on Tuesday January 17 at the Mojacar Pueblo Art Centre.
Artists that exhibit at the Centre don't have to rent their space but are expected to pay the Town Hall in kind with a piece of their artwork.
Essex born artist Laurance Blackwell and wife Olivia came to Mojacar on holiday a year ago after having lived in Mallorca for 12 years. "We liked it a lot and it had a good bus service and we decided to move here.
We'll stay forever." remarked Blackwell. The person in charge of the Art Centre for Mojacar Town Hall, Lesley Johnson said it was a poor turnout, perhaps because of the cold weather, but also because it's been quiet in general.
Lesley, who has been living in Spain for over 30 years, remarked "It's quiet now and I've never known such a quiet December as this last one."
Fifty of Blackwell's oil paintings are on display now until January 31 at the Art Centre and will be shown again in the spring at Dolce Vita café.
He's a "brilliant artist and does really clever stuff", says Brian Ray of Mojacar Playa. His paintings are inspired by music from works such as Tchaikovsky's the Nutcracker Suite and common sounds such as dogs barking, motorbike exhausts, fires spitting and creaking doors.
The artist describes Sonism as "a blind man running his fingers over an unknown object, trying to imagine its form and texture."
Among his accomplishments are winning medals for designing silverware for Number Ten Downing Street and having a painting exhibited at London's Royal Academy.
Blackwell he was very pleased with the opening night and his friend Damien Mathias (44) stressed that this exhibition was a lifetime's ambition for the artist.
Find out more about Sonism and Blackwell at: Freespace.virgin.net/km.blackwell Facebook http:sonism.arceast.com
By Susan Leach
[email protected]