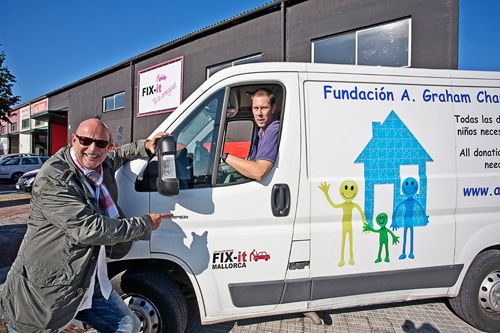 WE'VE made it through Christmas, New Year, the Kings, San Antoni.
Now all we've got to manage is the San Sebastian fiestas before normality returns and we run out excuses to put off whatever it was that we thought we might like to change in our lives in 2012.
Mallorca at this time of year has rich offerings of courses and activities to get involved with.
They are well timed too as most of the workshops and seminars are before the summer season when we are too busy or too tired to participate, and after summer we are focusing on getting everything ready for Christmas.
So this is the perfect time of year to try out something new.
Although some people claim that their new year's resolution is not to make one, it has actually been proven that if you set goals you have a 50% chance of reaching it instead of a 100% certainty of failure if you don't.
Here's some ideas if you're stuck for inspiration for your resolutions and how to achieve.
• Improve your Spanish. If this was a resolution last September then you might be frustrated from waiting for some of the local councils to organise the free language courses as some have not happened as promised.
Why not try an intensive language course such as the 3Phase Lingua Group course 'Spanish for Frustrated Beginners' on Saturday and Sunday (next one on January 28th and 29th). Email [email protected].
Once you've got off the blocks and you need to practice you could try attending the Lingo Club at Sa Taronja in Andratx (www.sataronja.net) which is every other Tuesday (next one on January 31st).
Sa Taronja also has the most amazing selection of dance and arts classes so do take a look at what they have on offer.
• Learn or start something new. If you've always dreamt of getting a particular project going but there's always been something stopping you then the workshop in March run by Jamie Catto (pictured) will be a great way to get going. www.jamiecatto.com
The workshop is 17th and 18th March in Deia.
• Lose weight. There are all sorts of faddy and 'get thin quick' diets out there, but the best ones are the type where you lose weight steadily whilst re-educating yourself about eating and cooking methods.
Visit www.slimmingworld.com to find out how to do it effectively.
• Help others. How would you like to help? As staff in a charity's shop or hands on cleaning out the kennels of a refuge, raising money or raising awareness, keeping the IT systems going or maintaining the organisation's transport (like the garage FIX-it in Son Castello help out the Allen Graham Charity pictured)?
There are so many different ways you can help. Contact Vicki McLeod on Facebook or email her: [email protected] and she will put you in touch with charities and organisations in your area.
• Get organized. Try the Business Effectiveness Workshop series, event 2. It's title is 'Learning to juggle' but the organisers Kay Newton and Dr James Rieley (pictured) say that it has nothing to do with working in a circus.
Indeed it is to help manage the multiple aspects of business and personal life and find a strategy to achieve your goals without going insane. The workshop is on 25th January.
Call 617 482 462 to find out more or visit www.kaynewtoncoaching.com.
If you were thinking more of organising the home then have a clear out and sell what you don't need any more on the Facebook group Second Hand Mallorca. Easy peasy, AND feng shui shall be restored to your life!
• Quit smoking. Possibly the most important resolution you can make and stick to. If you need help then there's a myriad of different ways to achieve success. Visit your doctor and ask for help. And don't give up giving up!
If you want to try a hypnotherapist then www.alexandraswindells.com is based on the island.
For online advice in English then visit smokefree.nhs.uk
• Enjoy life more. To find a way to get that smile back onto your face then go and have a look at www.happiness-project.com
It's run by Gretchen Rubin, who decided to spend a year discovering theories and studies about how to become happier.
• Spend more time with family and friends. This one is entirely down to you. How would you like to spend the time?
Set aside time in your week to spend exclusively with the people you love. Why not insist on eating together at the end of the day, or always having Sunday lunch together?
Or you could get involved with a new idea on the island: there will be an amateur production of the classic musical 'My Fair Lady' which is being produced by Alternative Studios.
There are lots of parts for both actors, actresses, dancers, singers and people just wanting some fun. All ages and abilities are welcome. If you are interested contact Laura on 629 594 638.
(Adults only for main parts but over 14 years old and up to 99 years old for the chorus).
How are your resolutions going?
If you have an unusual resolution or a tale to tell then we'd love to hear from you! Email [email protected] with your stories.
By Vicki McLeod
Photo credit: Oliver Neilson