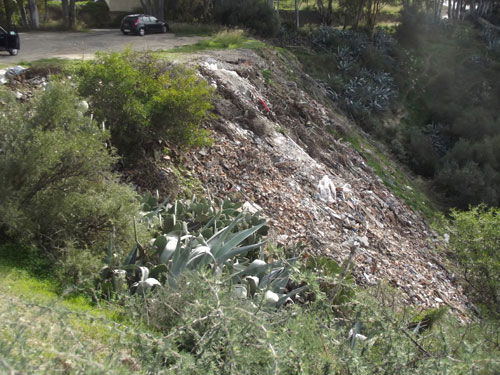 I think I am succeeding with my 'Clean Up Spain Litter Campaign'… even parts of Mojacar and Turre are looking much smarter that they were last year.
However, there are still several places around and about that look like dumps. It's incredible what one can find dumped on the road or wasteland.
This is extra to what has been collected up in the past: ammunition (live), 20-30 'used' diapers for babies (all from one specific place in Turre), more account statements with personal data, several personal and business bills, a batch of official letters (from councils and finance companies), electoral propaganda, gold master card, a safe (relatively clean with batteries and felt base still inside), items of wicker-ware furniture, two beds, six mattresses, two televisions (one works), three videos and scores of CDs.
We have also come across an awful lot of builder's debris near to the Cortijo Grande golf course car park. And I have a very good idea as who is responsible for this diabolical and disgusting fly-tipping behaviour.
I would like to ask people to have some respect for their area and have pride in where they reside. Recently, my wife and I spent another two hours clearing up part of Turre, within sight of the new school.
Forty-eight hours later we returned to this same area and discovered that residents (the majority of them Spanish, I will say) had left their rubbish on the street, within a few yards of five public rubbish containers.
People regularly visit Mojacar Playa and Mojacar Pueblo, Turre, Vera and Garrucha, simply because there are so many good restaurants, cafés, bars and of course, hotels, in addition to the promenades and a lot of property to buy.
Surely they don't want to see trash everywhere – especially if it's within view of a decent villa or townhouse, apartment, even a place of business.
Why should someone considerer buying a house or even a piece of land in an area strewn with litter? The local mayors say that money in councils is scarce… so here, surely, is a great opportunity, to boost the municipal coffers. I know that in the UK people who throw rubbish on the street, face a fines of at least £40.
I think a similar rule should be applied here. Since October of 2011, my wife and I have spent at least 60 hours going around picking up the trash of others.
We've also paid out a considerable sum of money in garbage bags and petrol. Why can't the local authorities supply a few black (or blue, even green) plastic bags for us to use.
I understand that the local party, Mojácar positive Se Mueve, has proposed measures to clean up the roads after the weekly markets and even fine vendors for not clearing away their 'own' garbage.
Here are a few ideas – mayors to take note please…
* Ask teachers and directors of schools to hand their children notices to take home to their parents informing them about 'cleaning up litter' and not dropping it.
* Local councils could easily put up posters at various points, explaining that fines will be imposed or proceedings opened against anyone who disposes of litter in public places.
* Those who throw trash anywhere other than in a public refuge bin, having been seen or known to do so, should be named and shamed publicly in the press or on the radio.
*And finally, how about getting these garbage dumpers, the litter louts, to go round and clean up the area themselves, wearing a yellow top stating 'I am a litter lout.'I
Contact me on 950 069 220 email: tony_matthews@live.co.uk
By Tony Matthews Local litter czar