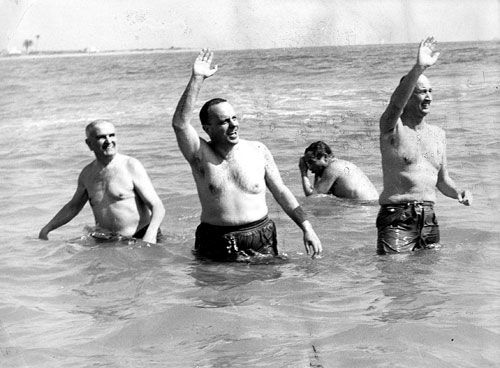 THE funeral of the Tourism Minister during Franco's regime, Manuel Fraga, will take place 46 years after he swam in Palomares sea to prove it was safe.
On January 17, 1966, two US aircraft collided during a mid-air refuelling operation and of the four Mk28 type hydrogen bombs one of the planes was carrying, three were found on land.
Two detonated on impact, resulting in the contamination of a two square kilometre area by radioactive plutonium.
The fourth, which fell into the sea, was recovered intact after a two and a half month-long search.
To defuse alarm of contamination, on March 8, 1966, Fraga and the US ambassador, Angier Biddle Duke, swam at beaches in Mojacar and Palomares in front of press.
Fraga died in Madrid last Sunday of a respiratory disease, aged 89 and was buried on Tuesday in his birthplace in Galicia.
After being Tourism Minister and Spain's ambassador in the United Kingdom under Franco, he went on to be Vice President and Interior Minister during the first government of the monarchy.
The Mayor of Cuevas del Almanzora, Jesus Caicedo, recalled Fraga as one of the founding fathers of the conservative Partido Popular, and spoke of how "brave" he had been to get in the water that day in 1966.