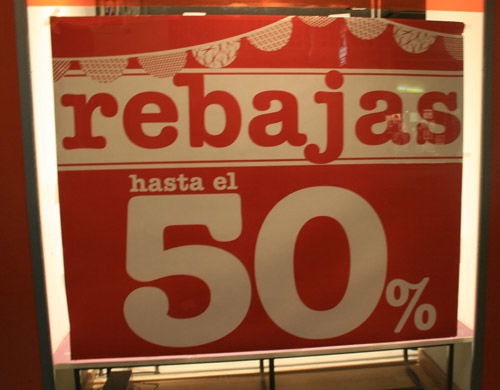 DESPITE a morning rush in the city, the winter sales which started across Almeria Province on Saturday have so far failed to give some Expat businesses the boost they had hoped for.
Large queues of shoppers formed outside several Almeria City stores, such as fashion retailer Zara, on Saturday morning as they waited to be first to grab a bargain.
With discounts of up to 70 per cent, the Sales will continue until March 7. But although the first weekend of the Sales was not too bad, it was "worse than last year" for Margaret Norman who has owned Glad Rags boutique in Albox for six years.
"People have less to spend and there is definitely less people coming into the shop than last year." Norman says she increased discounts this year as pre-Christmas sales were down from the year before.
"Speaking with other shops, we all seem to be in the same boat," she said. "Although we saw a 15 per cent growth in 2011, that was thanks to the first three quarters.
In the fourth quarter it dipped." Consumer group FUCI forecast shoppers will spend €90 each during the sales, a 6 per cent increase in spending this year, the biggest year-on-year rise since 2008.
The optimism was echoed by regional business association Confederación Empresarial del Comercio de Andalucía (CECA) which expects €270 million to be spent during the Sales across the region, a 5 per cent increase on last year.
Of this amount, CECA forecasts a spend of €23.9 million in Almeria Province.
Meanwhile, the regional government revealed it will check 554 businesses in the region – 60 in Almeria Province – to ensure these are complying with Spain's strict Sales regulations.
By Nicole Hallett