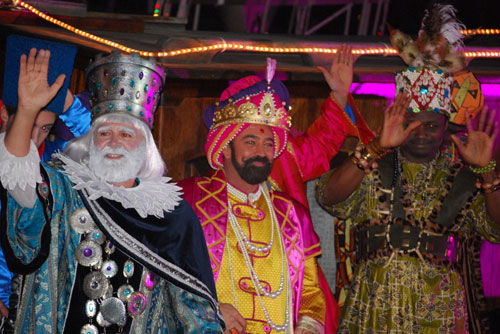 THERE will be more floats, sweets and participation in this year's Three Kings procession in Palma de Mallorca.
The procession will leave from Moll Vell tonight (Thursday) at 6pm and will proceed through Avenida Antoni Maura, Paseo del Born, Plaza Joan Carles I, Unio, La Rambla, Calle Bisbe Campins, Cerdanya, Paseo Mallorca, Avenida Jaume III, Plaza Joan Carles, Paseo del Born and finish up at Plaza de la Reina.
The kings will wave to those present from the Town Hall balcony after which they will personally greet children from various charities including those for the deaf, blind and those with disabilities.
Last year there were 15 floats, this year there are 16, which will be bigger with 10 more people on them and 19 around them. In total there will be 550 people involved in the procession, 125 more than last year.
There will also be 2,200kg more sweets thrown to the crowds this year than last.
A total of 5,700kg of gluten free sweets will be handed out and 3,000kg of sugar free. However, this year there will be no chocolate served to those waiting for the kings arrival.
The €12,000 that is usually spent on the chocolate will go towards other costs. In total the procession will cost €190,000, which is 10 per cent less than last year's, according to the organizers.
By Nicole Hallett