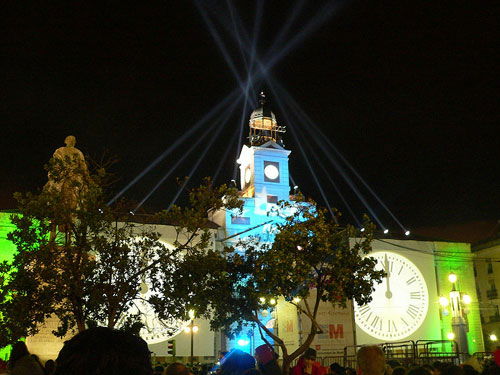 AS the clock struck mid-night last Saturday in Spain, millions of people were popping 12 grapes into their mouths.
One for each chime of the clock in Puerta del Sol in Madrid that heralds in 2012.
It is believed that by swallowing the grapes in time brings one fortune in the New Year. This is a tradition that is more than 100-years-old.
The first written reference to this custom of grapes and champagne was New Year's eve 1895 at an event attended by those who had served as Spain's Prime Minister.
It is believed that the custom had been common practice amongst the Madrid populace since 1882. By the beginning of the 1900's this custom was known in most parts of Spain.
It was strengthened in 1909 when there was a particularly good grape harvest in the Alicante and Murcia provinces.
This meant that many of the grapes would have gone to waste, so someone had the idea to promote the idea of eating 12 grapes to celebrate the 12 rings of the bell to ring in the New Year.
In 1962, Spanish state television TVE started broadcasting the New Year chimes from the Puerta del Sol in Madrid, complete with grapes.
Many people these days choose seedless grapes, while those with the normal grapes sometimes take the time during the meal to remove the seeds to made them easier eat.
The chimes give on average three seconds to eat each grape in.