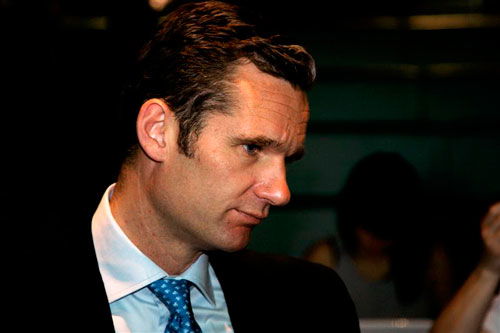 THE King of Spain's son-in-law has been formally charged with misuse of public funds.
Iñaki Urdangarin has been summoned by a Palma de Mallorca judge to appear in court on February 6 with 14 other defendants.
Urdangarin and his associate Diego Torres are accused of creating a network of companies to embezzle funds. These were received by the Noos Institute, a non-profit consultancy that billed regional governments more than €5 million for events to promote sport and tourism between 2004 and 2006.
After studying documents seized in the Palma Arena corruption case in Mallorca from the headquarters of Noos and other businesses, it is estimated that they diverted at least €650,000, to tax havens in Belize and Britain through the network.
Documents of interest were found in the safe of the headquarters of Aizoon, the promoters office shared by Iñaki and the Infanta Cristina. Diego Torres' home was also searched.
Urdangarin and Torres are charged with document falsification, corruption, fraud and embezzlement, mainly over agreements signed in 2005 and 2006 between the Balearic government, led at the time by the Partido Popular's Jaume Matas, and the Noos Institute, for €2.3 million. There are also links to the Valencian Government and documents which prove payments to the Duke of Palma's brother.
The Noos Strategic Sponsorhip Surveys Institute reportedly charged exorbitant prices for the services it provided, such as charging more than €1 million for a forum regarding sports and tourism which lasted just three days.
Urdangarin left the Noos Institute in 2006, just months after the Socialist Party came forward to report how much had been spent on the 2005 forum.
The investigation into the construction of the Palma Arena sports pavilion began in 2009 following a complaint from the Balearic Government. The cost for the work had tripled its budget to a total of €110 million.
Secrecy has now been lifted on the case, which has been codenamed 'Operation Babel' by the police, and more than 2,000 pages of information can now be accessed. King Juan Carlos reportedly told his son-in-law – a former Olympic handball player – that it would be "best" for him to come forward to defend his innocence.
Urdangarin works for Telefonica in Washington (US) where he lives with his family.
However, the Royal Household has made no comment regarding the allegations, except for expressing its "absolute respect" for the legal decisions.