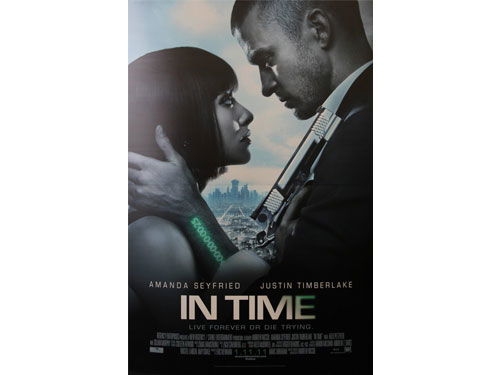 A future where time is a currency and the rich can live forever In a future where people stop aging at 25, but are engineered to live only one more year, having the means to buy your way out of the situation is a shot at immortal youth.
Time has become currency and the way people pay for luxuries and necessities. The rich can live forever, while the rest try to negotiate for their immortality.
When Will Salas is falsely accused of murder, he must figure out a way to bring down a system where time is money, and steal enough minutes to make it through another day.
Will is constantly in motion, running, searching, and working for every minute and second he can scrape up. After Will helplessly watches a family member's clock tick down to zero, he embarks on a journey that will forever change him, his beautiful accomplice Sylvia.
Sylvia is the embodiment of how the rich never truly live.
She's always dreamed of taking risks, but instead does little but wait for her trust fund to kick in. But Sylvia's life takes a dramatic turn when she's taken hostage and she finally learns what it truly means to be alive.
The acting in this film is good, and it is well-worth your cinema ticket, as it is entertaining, and puts a new twist on a futuristic plot which could have gone horribly wrong if not well conceived.
This film also has a message, and if more films like it were made, it would be a great thing for the film industry.
Film review by Gabrielle Devon