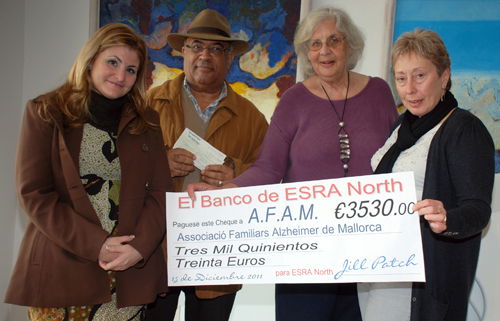 THE 'Thursday Club' has become quite a feature of ESRA North, where people go to meet friends, exchange books, read the papers, have a coffee, learn to speak Spanish, develop their craft skills or even learn how to play bridge.
There is always a friendly and welcoming atmosphere, and so it was really appropriate that ESRA North should choose the Thursday Club in Puerto Pollensa for their charity presentation.
This year ESRA North has chosen to support AfAM (Asociacion de Familiares de Enfermos de Alzheimer de Mallorca). Earlier this year ESRA North held a very successful Christmas Bazaar, and at The Christmas Lunch members held a raffle and auction to get the sum raised for AfAM to €3,500.
At the Thursday Club, the Chairman of ESRA North, Rosemary Bull, presented Cecil Buele, the Secretary of AfAM, with a cheque for €3,530. Cecil told the ESRA members how grateful AfAM was for the wonderful support of ESRA North, and Silvia Ramon told her audience that ESRA's donation had breathed fresh air into the work the Association was engaged in.
ESRA North continues to thrive, and judging by the atmosphere on Thursday, does so, whilst having fun. The great thing is that whilst having fun, ESRA North has not lost its view of the needs of a wider community.
Merry Christmas ESRA North! Caption: From left: Silvia Ramon, P.R. AfAM; Cecil Buele, Secretary AfAM; Rosemary Bull, Chairman of ESRA North; Debbie Potgieter, Secretary ESRA North.
By Howard Mullen