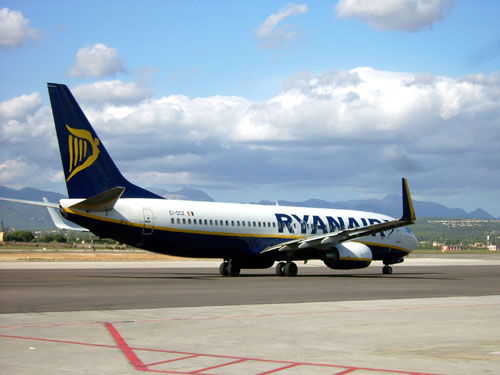 RYANAIR announced that Son Sant Joan airport in Palma de Mallorca is to become one of its 49 European bases.
The airline will also be adding 17 new routes as of March next year to the existing 30 routes already operated from Palma de Mallorca airport.
"This will bring in around 2.8 million passengers each year and create 2,800 new jobs in the Balearics," said the airline's president Michael O'Leary.
The new routes will connect Palma de Mallorca with Arhus in Denmark, Tampere in Finland, Haugesund and Oslo in Norway, Stockholm and Gothenburg in Sweden, Maastrict in the Netherlands, Magdeburg in Germany, Krakow and Poznan in Poland, Kaunas in Lithuania, Cork in Ireland, Marseille and Paris in France, and Malaga, Santander, and Santiago in Spain The decision to choose Palma de Mallorca's airport as the location of the new base is due to Aena's recent decision to force Ryanair to use air-bridges to board and disembark passengers at an annual cost of €2million, according to O'Leary.
"Four of the six Boeing 737 airplanes that were based at El Altet airport in Alicante will be transferred to Mallorca," he said. Air-bridge row In October, O'Leary cancelled flights to 31 destinations from Alicante's El Altet Airport over the disagreement regarding the use of air-bridges at the new terminal.
The cancellation of the direct flights means that there will be two million fewer passengers a year passing through El Altet and a loss of 2,000 jobs, according to O'Leary.
If the row over airbridges had not arisen, only 10 destinations would have been cancelled for the winter, but now the company only plans to bring back 50 per cent of the cancelled flights for next summer.
By Nicole Hallett